When the quaint, mountain community of Frazier Park needs moving services, the town turns to Acclaimed Frazier Park Movers. Acclaimed's Frazier Park movers are the most experienced relocation specialists in Kern County, and they offer fully comprehensive moving services that are molded to meet the needs of each individual customer. Acclaimed Frazier Park Movers also offers storage solutions to those looking for temporary or long term storage.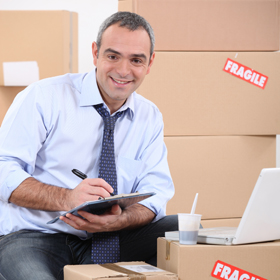 We are also experts at maneuvering a moving truck through winding, hillside roads, which is a necessity in Frazier Park. Regardless of whether you have a home or a business, we are prepared to move you to any place in the country, and even anywhere in the world. In recognition of our commitment to excellence, Google have given us 4 and 1/2 stars and Moving Authority has also listed us a 5 star company.
Frazier Park Movers
We believe that every move should be an incredible, luxurious experience that makes you a lifelong customer. That's why when it comes to our team of relocation specialists, we only employ the best of the best. We begin by selecting only the most qualified relocation specialists in the business; movers who have years of previous experience and insider knowledge of the ins and outs of the moving industry. Next, we enlist each new mover hired by our company into our specially-crafted, in-depth Acclaimed Movers training course. This course was designed in-house to ensure that all of our relocation specialists are remarkably skilled in the areas of wrapping, packing, disassembly, reassembly, and physical moving of the items of our customers. It's essential to us as the premier luxury moving company in the Frazier Park area that we employ only the most professional and qualified relocation specialists in the business, so we make certain that all of our movers undergo the kind of training required to go above and beyond for our customers.
Moreover, we equip our team with cutting-edge materials and equipment, like piano tilters, lifts, and reinforced moving boxes. Our skilled professionals and the equipment they have at their disposal combine to create a packing service with a standard of unparalleled quality. You can rest assured that when Acclaimed takes care of the packing for you, your items are sure to arrive in the same condition in which they left your care. Our packing service also includes custom crating for all special items like flat-screen TV's, artwork, pianos, pool tables, and antiques. All transportation of your belongings is carried out by our very own fleet of top-of-the-line trucks equipped with GPS. Each truck is cleaned and maintained regularly, and meets all of California's strict regulations and standards. We've already taken care of the little things, so now let us take care of the heavy lifting as well. The only finger you'll have to lift during your move is the one you use to call Acclaimed Frazier Park Movers.
You'll find that our Frazier Park Movers offer the most affordable luxury moving services in the industry, which includes:
Comprehensive Pre-Move Assistance Through the entire relocation process, Acclaimed's expert moving consultants can assist you in navigating through the confusion of your upcoming move. All of our talented and courteous relocation consultants are available by phone during business hours, and by email, at all times, in order to provide you the quality care you deserve. Each Frazier Park consultant can answer all questions, and remove all stress from your transition.
Efficient and Effective Moving Services Whether it's a long distance move, a commercial move, a vehicle move, or just a local move, we will perform a safe and efficient relocation. We have the tools and know-how to handle all types of moves, while still providing service with a smile. If you'd like, we can also assist in the unpacking process.
An Environmentally-Safe Moving Experience Our Frazier Park movers are dedicated to preserving Mother Nature, which is why we have converted our contracts over to soy paper with soy-based ink. We have also converted our trucks over to a bio-diesel fuel, which leaves a minimal carbon footprint.
The small town of Frazier Park offers an outdoorsy, refreshing pace of life which one might not believe can be found in such close proximity to the hustle and bustle of Los Angeles. Cradled in the mountains within Los Padres National Forest in Kern County, the population of this town in the hills is only 2,691, with a population density of 530 people per square mile, making this the perfect getaway for those who want a little more space. Despite its location in Southern California, where the air is typically hot year-round, Frazier Park's situation inland of the coastline creates a four-season atmosphere that sometimes even sees snow in the winter. In addition to the quaint and scenic style of life here, Frazier Park has several equestrian zones, meaning that horseback riding through the trails is not an uncommon sight.
Fitness enthusiasts have east access to the Hungry Valley State SVRA Park, which spans for 19,000 acres with 130 miles of trails to explore on foot, bicycle, or off-road vehicle. The nearby Ballinger Canyon is a well-known spot for mountain bikers, as it has 68 miles of trails with every type of terrain. Pyramid Lake is also close to Frazier Park, and there residents can fish, canoe, camp, kayak, or just bask in the sunshine.
Frazier Park Moving Quote
 We believe that moving quotes are a major factor in your decision about which company to choose, which is why we use full transparency with our quotes, providing a list of every service, material, and item that you could or will pay for. We offer quotes that are reasonable, but that will also cover the costs we will incur during the move.
    
    When you're ready to obtain a free, no-obligation quote from Acclaimed Frazier Park Movers, feel free to try out the easy-to-use, online moving quote generator on our homepage. Also, we have our moving consultants available six days a week who can get you a quote in minutes over-the-phone. Moreover, we offer free on-site estimates for all of our Frazier Park customers. With the Acclaimed on-site, our estimator physically assesses the move with a comprehensive evaluation of the services you require so that you can get a "not to exceed" quote price. Our on-site service protects you from overlooked fees and unexpected costs. When you move with Acclaimed Frazier Park Movers, you're sure to have an effortless and enjoyable experience. Get a quote today, and we'll get you moving.