Long Distance Moving Done Right
Regardless of whether you need to move interstate or internationally, long distance moving is never a simple process. It requires uprooting your life from its current position, and then planting new seeds in a new city. Be it a move from Los Angeles to New York, Phoenix to the Philippines, or anywhere else in the world, hiring the right long distance moving company is vital to having a relocation experience that is streamlined and stress-free. You need a company that understands the nuances of long distance moving, and has the experience, employees, and equipment to get the job done right. Acclaimed Movers and Storage is the nation's premier moving company for long distance moving. We have the trucks, tools, and highly skilled movers, to get you moving across the state, the nation or even across the globe.
Long Distance Moving
For the better part of ten years, Acclaimed Movers and Storage has made a name for itself by performing top-quality commercial and residential relocation services across the United States and around the world. We cater to each client on an individual basis, understanding that long distance moving is a very personal experience. When your long distance move takes you overseas, our courteous and friendly support staff can help you fill out all of the necessary paperwork to ensure a streamlined transition. This paperwork can include visas, IRS departure permits, and permits your new country may require for any other specialized items. On the road, Acclaimed uses a fleet of, 50+ foot, long distance trailers, allowing us to take more household goods to more places. If you are moving automobiles or other high-end furniture, our transport containers provide ample protection for your belongings throughout the move. Acclaimed Movers and Storage has every angle of long distance moving covered, making your relocation effortless and enjoyable.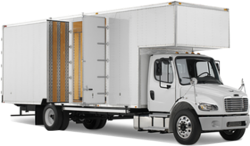 Acclaimed is a fully comprehensive, full-service, luxury, long distance moving company, and our unwavering commitment to customer service and efficiency has helped us earn a Moving Authority customer rating of 5 Star which has come from our over 12 years of experience. We maintain a fleet of top-of-the-line trucks equipped with GPS, and use only the industry's strongest and safest packing materials. GPS tracking will allow our company to know where all your items are at any given moment. This makes sure your items are never lost during the shipment process. Moreover, each of our long distance movers whether Agoura Hills movers, Beverly Hills movers, Woodland movers, Santa Monica movers or any other movers receives in-depth training on how to properly wrap, pack, and move any item. Pool tables, pianos, artwork, automobiles, network servers, office furniture, we can and will move it all. If we have a mover that does not yet have all these skills, we won't send them to you. Our professional packing service ensures the safe transportation of your belongings, and also fortifies your boxes, allowing them to withstand greater external pressure. If you need storage space, Acclaimed has an enormous, climate-controlled, secure, storage facility; featuring 24 hour surveillance and a temperature control system that protects belongings from pests, mold, and rust.
Long Distance Moving Quote
Acclaimed Movers and Storage is the nation's first choice for all long distance moving. We help you step-by-step through your long distance move, including the first and most important part of the process: obtaining an accurate moving quote. For a free, no-obligation quote from Acclaimed Movers and Storage, visit www.Acclaimedmovers.com and use our automated quote generator, or call (888) 668-3703 and speak to one of our courteous, skilled relocation consultants for an over-the-phone quote. Additionally, we offer free on-site estimates, and "Not to Exceed" quotes, which protect the customer from rising costs and provide the most accurate quote possible. This is our most recommended type of estimate, as our on-site estimator will conduct a comprehensive evaluation of the services you require to move all your items, taking into account every inch that needs to be moved in order to make sure that you get the most accurate price.
Acclaimed Movers and Storage is dedicated to providing each customer with the best long distance moving experience possible. Our goal is to create lasting relationships with every person we move, while redefining what it means to make a move with our reliability and professionalism. From coast-to-coast, border-to-border, or nation-to-nation, Acclaimed has the long distance moving solutions you need. When you're looking to undertake any long distance relocation, be sure to call the experts at Acclaimed Movers and Storage. We'll get you moving.