Every customer in Castaic wants a company that can provide outstanding service from one of the most professional moving companies in California. Look no further in Castaic. We have provided hundreds of moves and relocations for customers in and around Castaic and now would like to help you in what ever your needs are. Simply contact our office and one of our on-site estimators will come free of charge to Castaic or where ever your located in California so that you get a binding estimate for your up and coming move in Castaic. Our binding estimate will prevent any hidden charges against you so you won't have to worry about hidden charges later on during the move.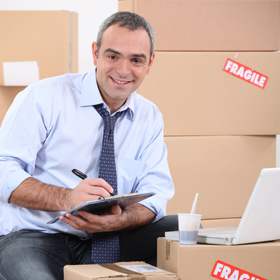 Here at Acclaimed Movers and Storage, we understand how stressful a move can be. You're tasked not only with packing up your entire life—all the items and household goods you use on a daily basis—but moving them through traffic from Point A to Point B. It's maddening enough to undertake such a task with just your things, but this process is compounded if you're moving an entire family. Whether it's a local move in the area that can be done in a day or a full-scale relocation across the globe, we understand the pressure involved with making a move.

Moving, whether it's just down the street or across the globe, can be an immensely stressful endeavor. When finances allow, it's always a good idea to consider hiring a team of professional movers who can handle all the headaches and backaches for you. A full-scale relocation is more than just transferring items from Point A to Point B; it involves keeping track of so many things that deferring the—usually cumbersome—basics to professionals can make all the different during your moving experience. That being said, hiring a moving company can itself be a harrowing experience in and of itself, and going with the rock bottom price may not be the most cost effective way to go in the long run. There are a multitude of things to consider when hiring moving companies, such as: How far are you going? How much stuff are you relocating? What is your budget?
If you are planning to move to Castaic, CA, you should know the area has lots of things that you can do. If you like fishing, Castaic Lake is a great place to take your rod and tackle to catch yourself some fish for sport or for eating. The lake is also a perfect spot to take a boat, jet ski or even for swimming. Castaic Lake also has beautiful scenery which is great for those who want to relax and enjoy the view. If you want more of a exhilirating experience in the area, Six Flags Magic Mountain is close by and allows you to ride the most awesome rollercoasters in Southern California. This amusement park is a favorite of those who like fast rides that provide loops, twists and quick turns. The park also has Hurricane Harbor which is great during the summer season. Here you can ride various water rides that will get your heart pumping while cooling you down under the sun at the same time. If you like animals, you can also visit the Gibbon Conservation Center which is filled with endangered animals being protected. This place is great for those who want to learn about endangered animals and how to help them survive through environmental science and policy. If you want something free to do, you can also visit the William S. Hart Museum and Ranch to learn about the history of the land and to enjoy the nature that the area of Castaic has to offer. As you can see, the city of Castaic has lots of things for you to do and participate in. Even for a place that is far away from the center of Los Angeles, CA, Castaic offers multiple attractions for each and every individual.
Acclaimed Mover is proud to be considered among the very top Castaic Movers. We are not like all the other Castaic moving Companies. We are committed to a high level of excellence that sets us apart from other California movers. We offer Castaic moving quotes and quotes for any Castaic moving job you may have for us. Just click on the Moving Services tab and get more information about Castaic local moving, California moving service or even office moving Services in Castaic to or from anywhere in the country. We do all types of moves so if you think we aren't able to handle the job, don't worry, our services cater to anyone who wants to move. Acclaimed Movers want you to be satisfied no matter what your moving needs may be. We are one of the top rated moving companies in Castaic.
One of our professional Castaic relocation services staff members can info you on any question you may have or any question you may need answered. We have on-site moving estimators' that will go through step by step, inventorying your items so that you have an accurate price for your move. You will never have to pay a cent above the estimate price given to you by our estimator. This is our guarantee to you and we won't break it. We believe in being fair to our customers and we think being upfront about the prices is how we can treat our customers with the most fairness.
All of the staff at Acclaimed Movers provides the best moving service in Castaic dedicated to giving our customers a stress free AAA service and maintaining the upmost professionalism. Please communicate any detail that you need we are here for you and your moving desires. Whether you need a local Castaic mover, you can trust that Acclaimed Movers will be knowledgeable about any moving and packaging, storage, long distance moving or you need a apartment mover in the city of Castaic, California. If you have any special requests, we can fulfill those requests to the best of our ability as we are able to customize our services to each individual customer. We are not just another California moving company we will move you anywhere in the nation coast to coast. Moving one item, or an entire household, we can across town or across country, Acclaimed Movers has both the experience and knowledge to get the job done right.
Excellent service on time with AAA customer service from the most reputable Castaic movers. Want full service Castaic mover in California call for free estimate 888-668-3703. You can call us or send us an email on our website asking any questions regarding moving and storage. Our associates will be available Monday through Friday during regular business hours. Our associates will provide answers backed with years of experience and knowledge in the moving and storage industry. If you have already decided to move, they can get your move processed and planned so you won't have to worry about it in the future. At Acclaimed Movers, we provide the best moving service and storage service the city has to offer.