Situated on the Arizona-California border, the beautiful area of Blythe, California has the Colorado River running right through the city, which provides welcome relief on those hot, summer days. Located on Interstate 10, the city is known as a main stopover for travelers going between Phoenix and Los Angeles, and Blythe relies heavily on tourism to bolster its local economy. It's a vibrant community with a small town feel, quiet neighborhoods, safe streets, and an abundance of local churches.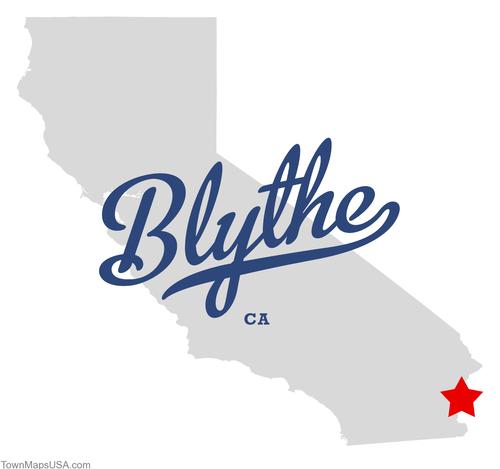 Due to its geographic location, Blythe is a popular spot for outdoor enthusiasts and hikers. The Colorado River is great for aquatic fun, and the nearby Kofa National Wildlife Refuge as well as the Cibola National Wildlife Refuge are home to some of the region's most exciting hiking trails. The city enjoys the quintessential Southern California warmth and sunshine nearly year-round, and hosts many cultural events, like a wonderful bluegrass festival held annually. Just outside the city, Blythe boasts prehistoric geoglyphs called intaglios, which are believed to be nearly 10,000 years old. Whether you're just passing through or looking to settle down, Blythe is an incredible city. If you're ready to move a home or business into, or out of the area, you'll need to hire the right Blythe moving company. With an array of unparalleled services and a team of ultra-skilled Blythe relocation consultants and movers, Acclaimed Blythe Movers and Storage is the right moving company for you.
Blythe Movers
We believe that every move should be an incredible, luxurious experience that makes you a lifelong customer. That's why when it comes to our team of relocation specialists, we only employ the best of the best. We begin by selecting only the most qualified relocation specialists in the business; movers who have years of previous experience and insider knowledge of the ins and outs of the moving industry. Next, we enlist each new mover hired by our company into our specially-crafted, in-depth Acclaimed Movers training course. This course was designed in-house to ensure that all of our relocation specialists are remarkably skilled in the areas of wrapping, packing, disassembly, reassembly, and physical moving of the items of our customers. It's essential to us as the premier luxury moving company in the Blythe area that we employ only the most professional and qualified relocation specialists in the business, so we make certain that all of our movers undergo the kind of training required to go above and beyond for our customers.
Moreover, we equip our team with cutting-edge materials and equipment, like piano tilters, lifts, and reinforced moving boxes. Our skilled professionals and the equipment they have at their disposal combine to create a packing service with a standard of unparalleled quality. You can rest assured that when Acclaimed takes care of the packing for you, your items are sure to arrive in the same condition in which they left your care. Our packing service also includes custom crating for all special items like flat-screen TV's, artwork, pianos, pool tables, and antiques. All transportation of your belongings is carried out by our very own fleet of top-of-the-line trucks equipped with GPS. Each truck is cleaned and maintained regularly, and meets all of California's strict regulations and standards. We've already taken care of the little things, so now let us take care of the heavy lifting as well. The only finger you'll have to lift during your move is the one you use to call Acclaimed Blythe Movers.
Blythe Moving Services
Acclaimed Blythe Movers and Storage offers an unbeatable full-service package:
Guidance from our courteous and knowledgeable moving consultants, who work with you throughout your move to make sure you have all the assistance and answers you need. They're available by phone, during our business hours, and by email, at all times. Our Blythe consultants will make your move a breeze.
Long distance moving. Our long distance moving services are perfect for relocating to any state, province, or territory in North America, or even any city in the world.
Office moving. Our office and business moving services are great for retail facilities, warehouses and offices of any size. We can also move restaurants, garages, small airports, hospitals, etc., helping your business transition without a hitch.
Our team of clean-cut, professional movers, who are all Blythe experts. Each relocation specialist cares about every move, and the Acclaimed Blythe movers go the extra mile to make your move great.
A comprehensive, color-coded inventory of all belongings being moved. Each box and piece goes on the itemized inventory, keeping the move organized. The labels provide clear instructions on where to unload, simplifying the unpacking process.
A complete pack of all items. Acclaimed will wrap and pack all household goods using industry leading packing paper, super-thick moving blankets, industrial strength cardboard boxes, and custom crates, providing maximum protection.
The Blythe movers disassemble and reassemble furniture when necessary, including; pool tables, pianos, cubicles, custom furniture, desks, dining tables, beds, etc. Our Blythe movers provide necessary tools, and use extreme care when handling your stuff.
Hand-crafted crates for all high-end items, including; flat-screen TV's, artwork, mirrors, antiques, sculptures, monitors, and network servers. Your Blythe movers build crates out of cardboard or wood for customized protection of your valuables.
Transportation provided by company trucks. We have a fleet of bio-diesel trucks equipped with GPS. The GPS allows our consultants to update you on progress throughout your relocation, and also keeps our drivers from getting stuck in nasty traffic or losing their way in a new city.
Space in our colossal, state-of-the-art, storage facility; featuring 24 hour video surveillance and a climate-control system that protects your stuff from pests, mold, and rust.
Blythe Moving Quote
We believe that moving quotes are a major factor in your decision about which company to choose, which is why we use full transparency with our quotes, providing a list of every service, material, and item that you could or will pay for. We offer quotes that are reasonable, but that will also cover the costs we will incur during the move.
    
    When you're ready to obtain a free, no-obligation quote from Acclaimed Blythe Movers, feel free to try out the easy-to-use, online moving quote generator on our homepage. Also, we have our moving consultants available six days a week who can get you a quote in minutes over-the-phone. Moreover, we offer free on-site estimates for all of our Blythe customers. With the Acclaimed on-site, our estimator physically assesses the move with a comprehensive evaluation of the services you require so that you can get a "not to exceed" quote price. Our on-site service protects you from overlooked fees and unexpected costs. When you move with Acclaimed Blythe Movers, you're sure to have an effortless and enjoyable experience. Get a quote today, and we'll get you moving.