Posted by: James Simon 6 years, 9 months ago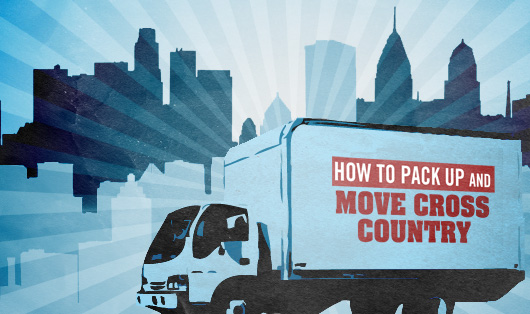 Moving across the country, a formidable prospect, as moving is an incredibly stressful process even when covering small distances. Whether it's Arizona to Florida, California to New York, Washington to South Carolina, or anywhere in between, knowledge is the key to having a successful moving experience, that an a partnership with a great moving company. You've come to the right place for knowledge and advice, as this blog covers moving across the country, so that you don't have to learn the hard way. Of course, you can always choose not to heed the advice in this blog, but you'll be happier if you do. This information comes from industry experts, who hope to make things easier for you and themselves, by creating more informed consumers. Here we go…
Moving Across the Country: What to Do

If you're moving across the country, then you'll need to start planning for the relocation at least two months in advance. You want to have ample time to handle all of the little things that must be taken care of, starting with finding a moving company. Make sure that you get estimates from at least three companies (so you have a broad idea of what's out there and what it will cost), and always do extensive research to ensure that a company is reputable and fully licensed (consult the Department of Transportation for more information). Also, verify that your cross-country moving company has the trucks, tools, and training to get the job done right by paying a visit to their facility. Once you've found a good company, then it's time to start preparing your furniture and belongings for the move. Hold a garage sale to get rid of the items that will not be making the move with you, or take the philanthropic route and donate them to a local church or charity. Gather materials from local grocery stores, office supply stores, or moving supply stores, a more comprehensive list of what you will need can be found below. If you're unfamiliar with packing, learn how to do it or pay the movers to do it, because proper packing will go a long way towards protecting your belongings. Moreover, make sure that you transfer or shut of your utilities, change your address with banks/schools/post office, and have temporary lodgings ready if you cannot move directly into your new place. You know a little bit more about what to do when moving across country, now will give you a better idea of what you'll need supplies wise.
Moving Across the Country: What You'll Need

Here's a quick look at the essential packing materials for moving across the country.
Tape. This is an essential for any move, and you will need ample amounts of it to ensure that your items are packed properly. Make sure that you get packing tape (not some other kind), and be prepared to use it generously. Tape can be provided by the moving company, or you can purchase it yourself from a grocery, office supply, or moving supply store.
Boxes. You will need a few different types of boxes for your move, but make certain that the ones you get are completely intact and undamaged. Look for boxes of varying sizes, try to get wardrobe boxes for your clothes (they have a dowel in them so you can conveniently hand items up), and make sure that you have a pile of spare cardboard to build moving crates for your more fragile and delicate items (this pile needs to be comprised of large pieces or intact boxes).
Packing materials. You will need to get newsprint packing paper, bubble wrap, or some other type of space filling packing material to protect the items that you put into boxes. If you go with packing paper, make sure that you get blank newsprint, so that you don't have to deal with ink staining items during the move. Also, to purchase packing paper, bubble wrap, packing peanuts, or some other type of material, you can head to your nearest office supply or moving supply store, or you can purchase them from the moving company.
Moving blankets. These are essential for the protection of your large furniture items, as boxes will not be able to accommodate couches, chairs, etc. You can rent/borrow/purchase moving blankets from the moving company you choose, or you can get them from a moving supply store (look for a U-Haul outlet).
Shrink wrap. Another essential for protecting large furniture, shrink wrap keeps the moving blankets in place throughout the relocation so that your items don't get dings, nicks, cuts, or scratches. You will wrap the shrink wrap around the moving blankets, securing them; it will also be used during the crating of specialty items.
Moving Across the Country: With Acclaimed Movers

Now that you know what moving across country entails, and what you will need to complete the process, it's time to find the perfect moving company. You should start with a free, no-obligation quote from the trusted experts at Acclaimed Movers. With more than a decade of experience completing all types of moves, Acclaimed is more than capable of making your cross-country relocation a simple and efficient process. The company offers fully comprehensive, luxury moving services, and relocates people to places all around the nation and the world. Each of Acclaimed's cross-country movers is a clean-cut, hardworking professional, who goes through regular training to ensure that they can properly wrap, pack, and then move any item. When you need assistance with logistics and planning, they have moving consultants. When you need help with materials and packing, they can provide all materials and offer comprehensive packing assistance. When you need quality labor and reliable transportation, they have dedicated professionals and a fleet of cutting-edge, eco-friendly trucks that are perfect for long distance moves. When you're moving across the country, don't settle for anything less than the best moving solutions possible, solutions from Acclaimed Movers.
Social Links

Like us on Facebook
Follow us on Twitter
Join us on Linked In
Watch us on YouTube
Share on Facebook