Posted by: James Simon 6 years, 4 months ago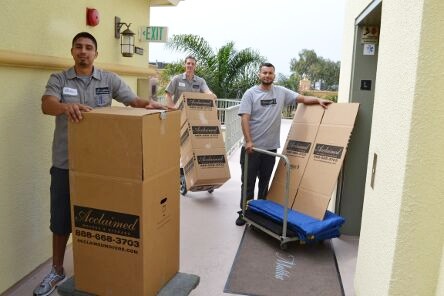 The most crucial element of finding the movers in Los Angeles with the most excellent customer service is all about doing the research. Because the need for movers in this thriving metropolis is always spiking more and more every day, the moving companies in the area aren't exactly few and far between, meaning the likelihood of coming across a rogue moving company with underhanded priorities is pretty fair. Because of this, research is one of the most important aspects when it comes to moving, especially in Los Angeles. And when you're trying to find the best movers in Los Angeles, it is even more so. Putting in the legwork to vet a company for its quality can mean the difference between a breezy, stress-free move and an utterly disastrous one.
Best Movers in Los Angeles | Finding Professionals
If you're looking for the most outstanding movers in Los Angeles, your search can start and end with Acclaimed Movers and Storage. We are a company that has been providing an unmatched standard of moving services to the state of California for the better part of a decade, with a staff of moving experts and an immense pride in our work. We are a company that strives to create a bond of trust with each and every customer, no matter how large or small their move may be, and we work hard to tailor our services to your specific moving needs. Here are just a few of the basic services Acclaimed provides for every move:
last box has reached its final destination. These employees are 100% invested in providing an unmatched standard of customer service so that our customers know they're in good hands when they put their trust in Acclaimed Movers and Storage.
At Acclaimed, our movers are professional, uniformed, full-time company employees, so their number one priority is always providing a quality moving experience to our customers. That means that your belongings aren't being handled by day laborers or temporary help, whose concern can sometimes be in the paycheck and not in the work itself. Our movers have a personal stake in each and every move.
We train our movers in-house in the art of packing and crating, padding and wrapping, the disassembly and reassembly of furniture, and the handling and transport of high-end items and bulky or oddly shaped furniture. They know how to pack every box and crate to maximize the space available and achieve the best blocking and bracing so that they can withstand the most external pressure while providing the utmost protection to the items packed inside.
We use top quality, industry leading tools and equipment, which are well-maintained and maximize the safety and efficiency of every move. At Acclaimed, we provide high-end supplies that are bleach-free and acid-free to ensure that your items will be kept in top condition, and we use the best double wall boxes, which are durable and sturdy, providing the best protection of your belongings.
Our movers operate our fleet moving trucks, which are well-maintained, meet all safety standards, and are proudly branded with the Acclaimed Movers and Storage name. Our trucks are each fitted with GPSunits for to-the-minute updates on your move, which will maximize efficiency and eliminate that last day arrival time waiting game.
We also offer a wide range of specialty services, from auto-transport in open and closed trailers for every type of vehicle to short term and long term storage in our 100% secure, climate-controlled on-site storage facility, art storage and shipping to piano moving with properly trained experts, and everything in between. This is one way we work hard to be your one-stop shop when moving, so you don't have to worry about accumulating extra costs by hiring an outside company.
We believe that every move should be an incredible, luxurious experience that makes you a lifelong customer. That's why when it comes to our team of relocation specialists, we only employ the best of the best. We begin by selecting only the most qualified relocation specialists in the business; movers who have years of previous experience and insider knowledge of the ins and outs of the moving industry. Next, we enlist each new mover hired by our company into our specially-crafted, in-depth Acclaimed Movers training course. This course was designed in-house to ensure that all of our relocation specialists are remarkably skilled in the areas of wrapping, packing, disassembly, reassembly, and physical moving of the items of our customers. It's essential to us as the premier luxury moving company in the area that we employ only the most professional and qualified relocation specialists in the business, so we make certain that all of our movers undergo the kind of training required to go above and beyond for our customers.

    Moreover, we equip our team with cutting-edge materials and equipment, like piano tilters, lifts, and reinforced moving boxes. Our skilled professionals and the equipment they have at their disposal combine to create a packing service with a standard of unparalleled quality. You can rest assured that when Acclaimed takes care of the packing for you, your items are sure to arrive in the same condition in which they left your care. Our packing service also includes custom crating for all special items like flat-screen TV's, artwork, pianos, pool tables, and antiques. All transportation of your belongings is carried out by our very own fleet of top-of-the-line trucks equipped with GPS. Each truck is cleaned and maintained regularly, and meets all of California's strict regulations and standards. We've already taken care of the little things, so now let us take care of the heavy lifting as well. The only finger you'll have to lift during your move is the one you use to call Acclaimed Movers and Storage.

Best Movers in Los Angeles | Acclaimed Movers and Storage
Acclaimed Movers and Storage is a company that works hard to be the best team of professional movers in the greater Los Angeles area. We are registered as a licensed and insured moving company with the Federal Motor Carrier Safety Administration, and we boast an "A" rating with the Better Business Bureau, and an exemplary five-star rating with Moving Authority. We also offer a free, no-obligation quote that is a "Not to Exceed" comprehensive moving price which can be broken down by any of our helpful and available staff members so you can see exactly where your money is going when you choose Acclaimed to handle your move.


When you're ready to obtain a free, no-obligation quote from Acclaimed Movers and Storage, feel free to try out the easy-to-use, online moving quote generator on our homepage. Also, we have our moving consultants available six days a week who can get you a quote in minutes over-the-phone. Moreover, we offer free on-site estimates for all of our customers. With the Acclaimed on-site, our estimator physically assesses the move with a comprehensive evaluation of the services you require so that you can get a "not to exceed" quote price. Our on-site service protects you from overlooked fees and unexpected costs. When you move with Acclaimed Movers and Storage, you're sure to have an effortless and enjoyable experience. Get a quote today, and we'll get you moving.
Social Links
Like us on Facebook
Follow us on Twitter
Join us on Linked In
Watch us on YouTube
Share on Facebook