Posted by: James Simon 6 years, 3 months ago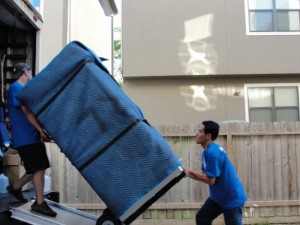 If you're moving into, out of, or around the Los Angeles area, you're most likely finding yourself in need of a professional moving company to handle your move for you. The trademark LA congestion on the roads is probably enough of a reason for anyone to make the idea of leaving the moving to the professionals a good one. Due to the fact that there are so many relocation companies in the Southern California region vying for your business, finding the best moving companies to the get the job done in Los Angeles can be a tough and tiresome process of vetting. It means doing extensive research on your part, scouring business sites as well as customer reviews in order to determine which specific company can provide the best quality work at an affordable price. When it comes to choosing the best moving companies in Los Angeles, you need look no further than Acclaimed Movers and Storage, a company that can be your one-stop shop for moving no matter how low or high your budget may be.
Best Moving Companies Los Angeles | Acclaimed Services
At Acclaimed Movers and Storage, we have been in the business of providing luxury, quality moving experiences for the better part of a decade. That means that we are moving experts whose number one priority is customer service and satisfaction. We strive to create a long-lasting, professional bond with every customer we relocate. When you choose to do business with Acclaimed Movers and Storage, here are just a few of the services that you can expect as a standard:
Our in-office staff of customer service representatives and professional moving consultants are knowledgeable, helpful experts in their field, and they are available to every customer and every move from the beginning to the middle and after. They assist in the planning stages of every move and tend to problems or concerns even after the move is considered technically complete and the last box has reached its final destination.
Our movers are professional, uniformed, full-time company employees, so their number one priority is always providing a quality moving experience to our customers. This way, you don't have to worry about your belongings being handled by day laborers or temporary help whose concern can sometimes be in the paycheck and not in the work itself.
Our movers are trained in-house in the art of packing and crating, padding and wrapping, the disassembly and reassembly of furniture, and the handling and transport of high-end items and bulky or oddly shaped furniture. They know how to pack every box and crate to maximize the space available and achieve the best blocking and bracing so that they can withstand the most external pressure without compromising the safety of the items inside.
We use top quality, industry leading tools and equipment, which are well-maintained and maximize the safety and efficiency of every move. Our supplies are all bleach-free and acid-free to ensure that your items will be kept in top condition, and we use the best double wall boxes, which are durable, sturdy, and top of the line.
At Acclaimed, our movers operate our fleet of well-maintained trucks, which meet all safety standards and are proudly branded with the Acclaimed Movers and Storage name. These trucks are each fitted with GPS units for to-the-minute updates on your move, which will maximize efficiency and eliminate that last day arrival time waiting game.
We offer a wide range of specialty services as well, from short term and long term storage in our 100% secure, climate-controlled on-site storage facility to auto-transport in open and closed trailers, art storage and shipping to piano moving with properly trained experts, and more.
Best Moving Companies Los Angeles | Acclaimed Movers and Storage
 When you choose Acclaimed Movers and Storage, not only are you getting one of the best moving companies in Los Angeles, but you're getting a company that cares about you and your relocation. We understand all the stress involved with moving from Point A to Point B, and we take into heavy consideration that each one of our clients is entrusting us with all of their worldly possessions. We work hard to provide an unmatched standard of service to every customer and every move, no matter how great or small, no matter the type or distance. We can handle every aspect so that you don't have to, and we are always determined to tailor our services to the needs of our customers.
 
    Acclaimed makes it a priority to provide as "green" a moving experience as possible with our eco-friendly fleet of trucks, which run on bio-diesel fuel and allow us to keep our carbon footprint low. In addition, we use soy-based ink cartridges in our printers as an extra measure taken to ease the burden on our environment. When you do business with Acclaimed Movers and Storage, you can breathe easily in knowing that you are choosing a company which is committed to doing its part to be gentle to our planet.

    We are registered as a licensed and insured moving company with the Federal Motor Carrier Safety Administration, and we boast an "A" rating with the Better Business Bureau, as well as a 5-star rating on Moving Authority. We have worked hard to acquire a long list of great reviews on customer review websites like Yelp, as well. Here at Acclaimed Movers and Storage, we offer a free, no-obligation quote that is a "Not to Exceed" comprehensive moving price, which will protect you from rising costs. Make sure to call Acclaimed today and find out why we can count ourselves among the best moving companies in Los Angeles. We'll get you moving.
Social Links

Like us on Facebook
Follow us on Twitter
Join us on Linked In
Watch us on YouTube
Share on Facebook