Acclaimed Culver City movers are moving experts that specialize in local, long distance and international moves. Culver City, California is a buzzing blend of industry, entertainment, and beautiful neighborhoods. Featuring tons of pedestrian friendly eateries, shopping centers, and local business, the area is both alluring and exciting. And, with great schools, as well as, a premium location near downtown Los Angeles and the Pacific Ocean, Culver City truly has something to offer everyone.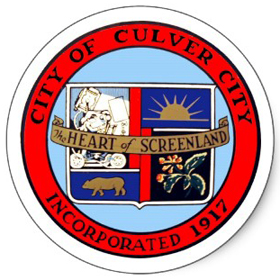 Since 1918 Culver City has played a big role in the entertainment industry, and today it's home to the headquarters of Sony Pictures, National Public Radio West, and The NFL Network, among others. It's also just around the corner from Los Angeles' main airport, LAX, making the city one of the first stops for new residents and visitors alike. For those seeking employment, the city has abundant job opportunities available and the local economy continues to rebound from the national recession. Culver City is an excellent place to visit, or to settle down in, and when you're ready to make the move hiring the right Culver City movers is a crucial step in the process. Acclaimed Culver City Movers and Storage, with ultra-skilled relocation specialists, and industry leading services and equipment, is the right moving company for you.
Culver City Movers
For years, Acclaimed Culver City Movers and Storage has performed residential and commercial relocations throughout Culver City, as well as, across the nation and across the world. Homes, condominiums, apartments, offices, retail facilities, warehouses, storage units, we can handle any type of move. Our Culver City movers know every inch of the city, and are also experts at moving, meaning there is no obstacle that can impede your transition. When you have furniture that is too large for doorways or hallways, we have lifts and other equipment to get it moved and disassembled properly. High traffic or heavily congested areas are also not an issue, as we have global positioning systems in every truck so that our drivers can map out new routes whenever the need arises. If you have fragile or invaluable items, we use great care to preserve their integrity, and we can build custom crates for ultimate protection. Acclaimed offers unmatched services, has the best Culver City movers, and is "A" rated with the Better Business Bureau, allowing us to lay claim to the title, King of Culver City moving.
Acclaimed Culver City Movers and Storage is a full-service, fully comprehensive moving company, helping you from beginning to end with your move. We offer an inventory and packing service that ensures the safe transportation of your belongings while strengthening boxes, helping them hold up against external pressure throughout the move. Our Culver City movers go through an intensive training course on how to properly wrap, pack, and move items of all shapes and sizes; including, but not limited to; artwork, pool tables, pianos, automobiles, office furniture, oversized furniture, antiques, even network servers. Moreover, our Culver City movers have a vast fleet of top-of-the-line trucks equipped with GPS, and use only the strongest and safest packing materials available. If you need to store your belongings, we have space available in our state-of-the-art, climate-controlled, secure, storage facility; featuring video surveillance and a temperature control system that keeps belongings safe from pests, mold, and rust. Acclaimed goes the extra mile to make sure that each move is an easy and enjoyable experience. Our Culver City movers are the expert movers you need to get your relocation done in an efficient, timely manner.
Culver City Moving Services
Acclaimed Culver City Movers and Storage's unbelievable services include:
Complete, comprehensive assistance through the entire relocation process through Acclaimed's expert moving consultants; all of whom are available by phone, during business hours, and by email, at all times, to provide the quality care you deserve. Each Culver City consultant can answer all questions, and remove all stress from your transition.
Long distance moving. With our long distance services, you can move to any state, province, or territory in North America. We can also take you anywhere in the world.
Commercial moving. Our office moving services allow you to move your retail facility, warehouse, office, hospital, or even airport.
A team expert movers, who also happen to be experts on Culver City. Our Culver City movers are clean-cut, professional, company men, who overcome any and all issues, and understand the care and concern that your relocation requires and deserves.
An itemized inventory of all items being moved. This includes the use of special, color-coded labels for boxes, which keep your move organized and make it easy for the experts to unload boxes in the right places.
Professional packing for your entire home or business, including wrapping all materials in protective packing paper or moving blankets. We utilize industry leading packing materials, like: industrial strength packing paper, super-thick moving blankets, reinforced cardboard boxes, and hand-built crates. Our packing service ensures that your items arrive in the condition they left in.
Full disassembly, and reassembly, of bulky furniture, such as; cubicles, conference tables, desks, network servers, dining tables, pool tables, pianos, beds, etc. We bring our own tools, and keep track of all screws and loose parts.
Professional crating/transportation of fragile and/or high-end belongings; antiques, artwork, sculptures, pool tables, pianos, and classic cars. We will build specially fitted crates out of wood or cardboard, to provide maximum protection for your valuables.
Transportation carried out by our growing fleet of top-of-the-line, bio-diesel trucks. Each truck is equipped with GPS, which allows the driver to map out alternate routes to quickly circumvent traffic, provides progress reports on the location of your belongings, and keeps the driver from getting lost.
Storage space in our substantial storage facility, which uses round-the-clock video surveillance, and a temperature control system to protect belongings from outside elements such as bugs, mold, rust, and prying eyes. We store your items in vaults, meaning they are safe and sound.
Culver City Moving Quote
Once you're ready to make a move, the first and most crucial step in the process is obtaining a fair and accurate estimate of the total cost. For a free no-obligation quote from the Culver City experts at Acclaimed, our moving quote generator can be found throughout the site, or you can call (888) 668-3703 to speak directly with one of our outstanding sales representatives. Additionally, Acclaimed also offers free on-site estimates, which provide you with a "not to exceed" quote that protects you from hidden fees and unexpected costs. Our estimator comes right to your home or business to make the process of getting a quote effortless.
Acclaimed Culver City Movers and Storage is the leading, luxury moving company in Culver City and Los Angeles. We're dedicated to developing life-long relationships with each person we help, and determined to make your move an amazing experience. Our goal is simple, to define professionalism, reliability, and affordability in the moving industry. As we continue to evolve, we will cater our services to the demands of the Culver City moving market, providing the most comprehensive moving services possible. You're ready to make a move, so choose the right Culver City movers, Acclaimed Movers and Storage. We'll get you moving.