Posted by: James Simon 6 years, 9 months ago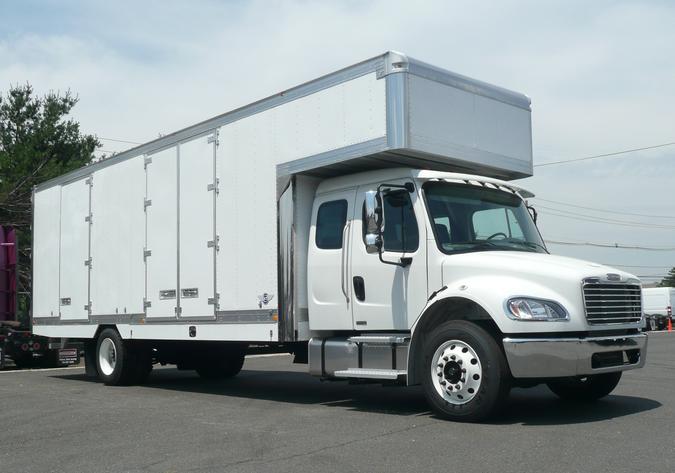 If you are preparing for a residential or commercial move, you already know how much effort is involved. Have you considered using a nationwide van lines provider for your relocation? Nationwide van lines specialize in local, long distance and international moves as well. They have the expertise and skills needed when packing your prized possessions, loading your belongings onto the truck and unloading into your new house. A few other reasons to consider this option:
Professional Experience—Nationwide van lines operators are generally staffed with skilled and experienced movers. The staff members dispatched to your home or office are pros who have likely faced every moving challenge, and can help you manage complications quickly and effectively.
Efficiency Experts—Professional movers attack every relocation with an eye for efficiency. The best way to pack, the fastest way to load, making the most of space in the moving van—these are all things nationwide van lines have built their businesses on, so you know they'll do it right! Movers have a meticulous attention to detail to ensure that all of your things are moved from Point A to Point B in the most streamlined, effective manner possible.
Tools of the Trade—From packing materials to modern vehicles, any reputable nationwide van lines provider will have the equipment necessary for a smooth and efficient move. That means quality packaging materials, thick moving blankets, dollies, lifts, and well-maintained moving trucks.
Responsibility—In short: whatever happens during loading or unloading or on the road is on them—not you. Because professional movers have the experience and tools to do the job right, damage is a lot less likely. However, if the unthinkable happens, they also have the liability insurance to cover it. You can rest assured that when you choose to do business with a nationwide van lines provider, your household goods will be covered by careful hands as well as insurance, guaranteed.
Storage Facilities—The best moving companies provide secure storage for their customers, particularly if they deal with long distance and international moves. Storage facilities can be a lifesaver if you are looking to downsize your home or office, or if you need to stow your household goods for long-term travel.
Selecting a Provider
It's not hard to choose a nationwide van lines operator, exactly, but it does take time and effort. Let your fingers (and computer mouse) do the walking to find movers in your area who offer the services you need at a price you want. A few things to do after you've compiled a list of prospective national van lines companies:
Arrange for free quotes, which can often be done over the phone or even online. Although, most van lines will offer to send someone to your location to do an on-site, comprehensive assessment (free of charge) of the moving space and all goods to be moved. Consider obtaining a binding quote, so you can lock in the rate given to you and protect yourself from surprise fees and rising costs.

Read the reviews on moving company review sites.  MoverReviews.com, MovingAuthority.com and

Angie's List

are a few good places to find out what other movers are saying about the nationwide van lines you are considering. If any movers get consistently bad ratings, do yourself a favor and cross them off the list!

List pros and cons of each company you are considering to take on your move, in order to make the decision making a little simpler.

Decide what your top priorities are for a professional mover. If speed is your main concern, ask providers the soonest they can have you set up—and ditch the ones that take the longest. Budgeting? Lower prices are going to carry more weight in your decision.

Something important to keep in mind while choosing a moving company is that cheap prices are not always the best option. It's tempting to want to select the moving company that offers the lowest prices for the services you need, but in the moving business, you get what you pay for. You are striving for affordability (as everyone wants to save money when undertaking something like a home or office relocation), but cheap isn't necessarily the way to go. It's much more affordable in the long run to invest a little bit of extra money to ensure that a job is done right rather than pay a national van line offering ridiculously cheap prices to deliver your household goods totally destroyed.

Choose a mover. Once you have vetted all potential companies, it's time to make a selection and get moving!
 
A bit of advice: stop worrying! If you've done some homework and really put some thought towards what criteria are important to you, you'll know what to do.
Nationwide Van Lines | Choosing Acclaimed
There are a lot of nationwide van lines out there that offer quality service and value. But few offer quite the level of service you can expect as a standard from Acclaimed Movers and Storage, a luxury moving company based in Los Angeles. Their moving professionals are courteous, knowledgeable and experienced—you can trust them to guide you through every aspect of your move, whether it's across the street, the nation or an ocean. Acclaimed operates a modern fleet of vans which employ bio-diesel fuel for a lower carbon footprint, and all vehicles come equipped with GPS units. Acclaimed has assisted many customers across Southern California make relocation a snap, including high-profile clients like the Getty Museum. As a testament to their ability to handle the special requirements of any household or business, Acclaimed Movers staff are fully prepared to specially crate any special items, and offer expert packing of your standard belongings as well. Storage, should you require it, means an enormous, state-of-the-art, climate-controlled facility with 24-hour surveillance; contents are completely secure and safe from pests, mold, rust and the Southern California sun. There's no problem that Acclaimed Movers and Storage can't put to rest…and that means you can rest easy, knowing your belongings, and your entire move, are in the hands of a trusted professional.
When you're ready to obtain a free, no-obligation quote from Acclaimed Movers and Storage, feel free to try out the easy-to-use, online moving quote generator on our homepage. Also, we have our moving consultants available six days a week who can get you a quote in minutes over-the-phone. Moreover, we offer free on-site estimates for all of our customers throughout Southern California. With the Acclaimed on-site estimate, our estimator physically assesses the move with a comprehensive evaluation of the services you require so that you can get a "not to exceed" quote price. Our on-site service protects you from overlooked fees and unexpected costs. When you move with Acclaimed Movers and Storage, you're sure to have an effortless and enjoyable experience. Get a quote today, and we'll get you moving.
Social Links:
Like us on Facebook
Follow us on Twitter
Join us on Linked In
Watch us on YouTube
Share on Facebook