Posted by: James Simon 7 years, 2 months ago
Often considered one of the most stressful situations in a person's life, moving can be a complicated process, which only gets tougher when you're moving to a new state. For whatever reason, you're leaving behind the familiarity and comfortability of your current home for a new adventure and a new home. You'll need to prepare quite a bit, including finding a new place to live, shutting of all utilities, notifying the bank/post office/school of your change of address, getting rid of things you don't need, gathering supplies, planning the move; there are so many things that it can leave your head spinning.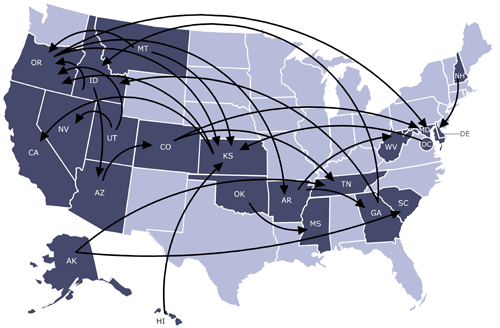 Although the do-it-yourself approach has its appeal, ultimately the best option for moving to a new state is hiring a long distance moving company. You can save yourself from having to pack up your entire house, and then put in hours of back breaking labor transporting boxes and furniture, and from having to drive a large vehicle or trailer across state lines. A full-service long distance mover will do the hard work, making your transition a relaxing and enjoyable experience. However, it's important to choose the right long distance moving company, one with the proper experience, equipment, and desire, one like Acclaimed Long Distance Movers.
Moving to a New State

A fully comprehensive, full-service long distance moving company, Acclaimed performs residential and commercial long distance moves. Offices, warehouses, retail facilities, houses, apartments, storage units, whatever you're moving interstate; they have the knowledge and tools to handle it. Acclaimed Long Distance Movers has a team of moving consultants who guide every client step-by-step through the process of moving to a new state, leaving no stone unturned. Each Acclaimed relocation specialist is given unique training on how to properly wrap, pack, and move any time, including but not limited to; conference tables, network servers, pool tables, pianos, automobiles, and artwork.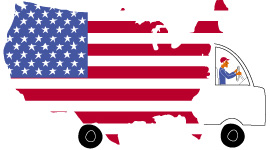 This professional packing service is the difference between your items showing up in one piece, or a million pieces. Acclaimed also maintains a fleet of bio-diesel powered trucks, equipped with GPS systems that allow up to the minute tracking of shipments. Moreover, their long distance movers care about each move they perform, providing you with the peace of mind that your belongings will arrive safely and punctually at your new address. If storage is required, space is available in their state-of-the-art, secure storage facility; featuring 24 hour surveillance, a climate-control system that protects belongings from mold, pests, and rusting. Acclaimed Long Distance Movers makes moving to a new state a breeze.
Customer Service

Unmatched customer service, and an "A" rating with Moving Authority, allows Acclaimed to lay claim to the title, the nation's best long distance mover. To qualify to be one of their long distance movers, Acclaimed requires years of experience handling transitions of all shapes and sizes. Whether it's navigating a tricky highway, or finding an address in an unfamiliar city, they are trained how to handle it. No tight corner or odd architecture will prevent their long distance movers from getting the relocation done right. Additionally, Acclaimed uses its own trucks instead of brokering your job out to a larger van line. Moving to a new state is a pain, but it doesn't have to be; just give Acclaimed Long distance Movers a call.
Long Distance Moving Services

Acclaimed Long Distance Moving Company's unmatched service includes:
Guidance throughout your move to a new state, with the help of Acclaimed's courteous and friendly moving consultants. Each consultant is an expert in all forms of moving, and can provide answers and solutions to any questions or concerns.
Professional, clean-cut movers, who all have years of experience in the long distance moving industry. Our specialists understand the care and concern that each interstate move requires.
A full, itemized inventory of everything being moved, including labels for boxes, which helps keep your move organized from start to finish.
A full wrap and pack of your belongings, which includes the use of industry leading packing materials: industrial strength packing paper, ultra-thick moving blankets, reinforced boxes, and custom built crates. The highlight of this option is the proper packing job, which ensures that safety and security of every item packed.
Professional disassembly and assembly of all large furniture, including beds, couches, desks, pool tables, and pianos. Also, the proper transportation of high-end belongings like artwork, sculptures, pool tables, and pianos.
Transportation provided by a fleet of new, bio-diesel powered trucks. These trucks feature a GPS system that provides up-to-the-minute tracking, allowing Acclaimed to pin-point the location of your belongings at any time.
Storage space in an enormous, secure storage facility. The facility features 24 hour surveillance and a temperature control system that prevents pest, mold, and rust from affecting your belongings.
An incredibly friendly and helpful support staff, available by phone during business hours and by email at all times, to provide quotes and assistance.
Moving to a New State Tips

Here are a few tips to for moving to a new state, which should kick-start your brain and the planning process:
Start planning well in advance. A large transition, like moving to a new state, requires at minimum 60-90 days of preparation.
Take time to get rid of all the stuff you don't want or need. Old couches, clothes, toys, etc., should be donated or thrown away before you begin packing.
Professional movers will not touch plants, and in many instances produce and other perishable goods. These items can require permits, or may be banned outright from travelling across state lines. Additionally, combustible items and liquids should be disposed of and will not be transported by long distance movers.
Keep important things, like; jewelry, passports, birth certificates, ID's, and personal electronics, with you throughout the transition. Try not to let them out of your site, to prevent that moment of terror when you think they've gone missing.
Empty all drawers before sealing them shut, to prevent them from opening during the move and raining down projectiles on the movers or your other items.
Make sure your long distance mover provides insurance for your belongings. Get a rundown of their policy, and if necessary get additional coverage to protect yourself from unexpected damages.
Plan to be flexible and deal with some delays. Interstate transit often involves a few hiccups, which means your items may not arrive at the expected date. Be prepared to deal with such a delay should one occur.
Be sure to meet your long distance movers in person before they arrive. Get an on-site estimate and a feel for how they do business. The last thing you want is to end up with a rogue moving company, so protect yourself by actively researching the company.
Moving Quote

Getting an accurate moving quote is the first, and most important, step in the relocation process, especially when moving to a new state. You can obtain a free, no-obligation quote for the Acclaimed Long Distance Movers online, at www.AcclaimedMovers.com, or over the phone at this toll-free number, (888) 668-3703.

Acclaimed also offers free on-site estimates, and "Not to Exceed" quotes, to protect the customer and provide the most accurate estimates possible. Their on-site estimator comes to you, making the process of getting an accurate quote effortless.
Acclaimed Long Distance Movers offers the industry's best service at affordable rates. The goal is simple, to define professionalism and reliability in the long distance moving industry. Acclaimed continues to aggressively evolve and improve with each relocation their movers perform. That commitment to excellence has helped Acclaimed become the nation's expert long distance moving company. Acclaimed Long Distance Movers, We'll get you moving.
Social Links

Like us on Facebook
Follow us on Twitter
Join us on Linked In
Watch us on YouTube
Add us on Google+
Share on Facebook