When the colorful, beautiful beachfront city of Venice needs top-quality residential and commercial moving services, Acclaimed Venice Movers is the only company that measures up. For more than a decade, Acclaimed has developed it's fully comprehensive services around the local moving needs, and now offers an unparalleled, luxury moving experience. We personalize each move so that you get our luxury treatment to the fullest extent, and we understand the nuances of moving in cramped beachside conditions.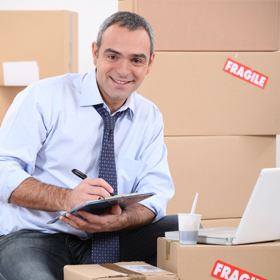 Our Venice movers all have years of experience in the industry, and working under the Acclaimed banner, which guarantees that they can and will safely and securely transport all of your belongings. Along with their experience our relocation specialists also sincerely care about you and your move, meaning you can rest assured that you're in good hands. When it's time for you to make a move into or out of Venice, it's time for you to call Acclaimed Venice Movers.
Venice Movers
At Acclaimed, we believe in going the extra mile to provide you with a premium quality moving experience, and that's why we supply all of our Venice movers with the industry's most advanced packing materials and equipment. From state-of-the-art piano tilters and lift gates, to industrial strength boxes, and extra-thick packing paper, we use the best of the best to protect your stuff. Moreover, all of our Venice movers are required to go through regular training, to ensure that they can properly wrap, pack, and move any item. The Acclaimed packing service, a customer favorite, uses those tools and packing techniques to reinforce your boxes for the journey, and includes the disassembly of all large furniture, as well as, hand-built moving crates for all flat-screen TVs, electronics, artwork, antiques, and other delicate or valuable items. For transport, we use only top-of-the-line trucks from the Acclaimed fleet, all of which run on bio-diesel fuel. We use a cutting-edge GPS in all of our trucks so that our drivers can choose the most efficient routes on-the-fly, and all of our trucks meet California's strict rules and regulations. Regardless of where you're going, or what you're bringing, Acclaimed will make the entire process feel effortless and enjoyable. If you're ready to move your home or business, Acclaimed Venice Movers is ready to help.
Every relocation with Acclaimed Venice Movers includes:
Assistance and coordination from moving experts We have a team of Venice moving consultants who will lead you through the pre-move process. They will help you as you pick a moving date, gather supplies, and select the services you need. Expect our consultants to have answers for all of your moving related questions.
Premium services and treatment We always provide an incredible, luxury moving experience by personalizing each move. Our goal is to make you a lifelong customer, so you can expect service with a smile, and solutions for all of your moving needs. Our movers, consultants, and sales team members are courteous, knowledgeable, and care about you and your move.
Venice long distance movers Our Venice-based long distance movers help people relocate to places all around the world, and will make any cross-country or international relocation a breeze. With our packing service, your items will be safe and secure for the duration of the journey, and we'll assist with all logistics, allowing you to focus on getting used to your new surroundings.
Venice office movers We have the most experienced Venice office movers in the industry, and we work with warehouses, retail facilities, restaurants, and more in addition to offices. Our goal is always to minimize downtime, and to have your business up and running in the new location as soon as possible.
Venice auto movers We offer closed-crate and open-air shipping methods, making it easier than ever before to bring your classic car, daily driver, or recreational vehicle to wherever you're headed. We always protect your vehicle to the fullest so it arrives exactly as you left it.
Venice Moving Quote
The moving quote is your first indicator of what kind of moving company you're working with. A good quote will be reasonable, accurate, and will be able to cover the costs that the moving company will incur during the move. If you get a quote like that, it's likely from a reputable, licensed moving company. A bad quote can be too high, or too low, to the point where it feels too good to be true. In the case of an ultra-low quote, it's usually from an unlicensed or rogue moving company as they try to get a foot in the door. Avoid quotes that feel too good to be true, and instead choose something that fits your budget but that also makes sense for the moving company. The two most common methods for obtaining a free, no-obligation quote from the local experts at Acclaimed Venice Movers are the online quote generator and the over-the-phone method. Our quote generator is located throughout our website, and our knowledgeable and helpful sales team is available six days a week by phone. We also offer free on-site estimates for all of our Venice customers. We send a seasoned estimator to you, where they physically assess the move and then present you with the most accurate estimate possible. Not only do you get an accurate estimate, but you also get a "not to exceed" quote price that shields you from unforeseen costs and fees. For an efficient, easy relocation of any home or business, you need Acclaimed Venice Movers. Get a quote today, and we'll get you moving.