When the small, Santa Barbara County town of Santa Ynez is in the market for unbeatable, luxury moving services, the community turns to the premier residential and commercial mover in the area, Acclaimed Santa Ynez Movers. Acclaimed is a full-service, fully comprehensive moving company that has adapted its services over the years to meet and exceed the needs of the local moving market.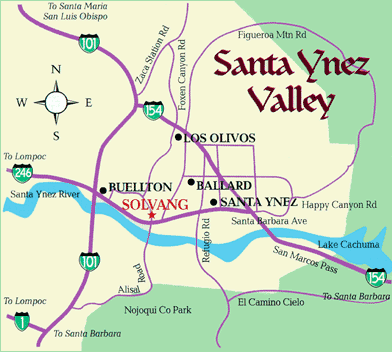 We pride ourselves on being the premier moving company for the community, helping people move across town, across the country, and across the world. Our team of Santa Ynez movers has unequalled skills, training, and experience, which means that your items are always in good hands. When you need to make a move, choose the moving company that will simplify the entire process, Acclaimed Santa Ynez Movers. We are an "A" rated company with the Better Business Bureau.
Santa Ynez Movers
We believe that the quality of our movers and the work that they do is what separates us from our competitors. That's why we make sure that all of our Santa Ynez movers go through an extensive training program. Once they've been through the training, our movers can safely and securely pack and move anything you have. Furthermore, we've gone out and gotten the most advanced equipment the industry offers, so that our movers have the best tools at their disposal. When we handle the packing for you, your boxes are reinforced by how we pack, your large items are properly wrapped and stowed for the journey, and all delicate and valuable items receive specially-tailored protection. For the transport of your items, we have amassed a fleet of top-of-the-line trucks equipped with GPS. Each of our trucks is cleaned regularly, and we fuel them up with a bio-diesel fuel that is designed to reduce our carbon footprint. Anytime you move with Acclaimed Santa Ynez Movers, you're in for an incredible, premium quality experience.
Each Acclaimed Santa Ynez relocation includes:
A team of seasoned Santa Ynez movers Our local relocation specialists have a minimum of ten years of experience in the moving industry, performing all manner of moves. Not only are these clean-cut, company men, but our Santa Ynez movers care about you and making your relocation a great experience. Our movers are the core of our company, and that's why we trust that they will make your next move effortless and enjoyable.
Pre-move consultation and coordination from local experts Our Santa Ynez moving consultants will lead you through the preparation and planning phase of your move, making it easy to pick the right services, dates, and supplies. Our consultants will have answers for all of your questions, so that you have nothing to worry about.
A clean, eco-safe relocation We have converted all of our contracts and estimates to a soy based paper with soy based ink as we move to a more sustainable office environment. We've also begun fueling our trucks with bio-diesel, which has dramatically reduced the negative impact of our emissions. These are just two small ways that Acclaimed is working to protect the world we live in.
As the namesake for the Santa Ynez Valley, the town of Santa Ynez is colloquially known as a "sophisticated cowboy town." Perfectly preserved with a backdrop of saloons and horses, visitors and residents of Santa Ynez alike can bask in the energy of the old Wild, Wild West when they come into Santa Ynez. Though the past is alive and will in Santa Ynez, the town hasn't left itself completely to the customs of days gone by; there are a variety of shopping opportunities and fine dining establishments to choose from, as well as a state of the art cycling center. If you want to get even more history than what's available in downtown Santa Ynez, one needs to go no further than the Santa Ynez Valley Historical Society Museum, which expertly tells the story of the early days out west. Though the population is only less than 5000, the residents of Santa Ynez are proud of their heritage and have many festivals to celebrate it, including Old Santa Ynez Day, which is a street fair and festival held every June under the Southern California sunshine.
Santa Ynez Moving Quote
The moving quote, a basic estimation for the cost of your move, will be based on tariff rates that are determined by the Public Utilities Commission. The PUC sets a maximum and minimum tariff allowed, and also sets up fees like double drive time. The goal of the PUC is to regulate the moving industry, and provide support for people looking for a great company. To get a free, no-obligation quote from one of the PUC's most trusted company's, Acclaimed Santa Ynez Movers, give our online moving quote generator a try, or give us a call and we'll get you a quote over-the-phone. We also perform free on-site estimates upon request. With our on-site estimate service, we're able to give you a "not to exceed" quote because our industry expert physically calculates the move. When you want an easy, relaxing, moving experience, Acclaimed Santa Ynez Movers will provide it. Get a quote today, and we'll get you moving.