The tranquil, quaint city of Santa Paula, also known as the "citrus capital of the world", calls only one company the premier, luxury, residential and commercial mover for the area, Acclaimed Santa Paula Movers. After spending the better part of a decade moving all types of homes and businesses in the community, Acclaimed has fully comprehensive services that exceed all of the local moving needs. When you need to move across town, we'll make the process effortless.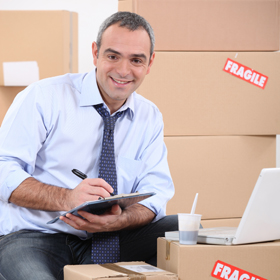 When you need to move across the United States, we'll make sure your stuff arrives safely and promptly. When you need to move across the world, we'll make it feel as though you've only moved across the street. We have the best movers, the best equipment, and a commitment to making each move an incredible, luxury experience. When you're ready to move to or from the area, choose the company that the Better Business Bureau awarded it's coveted "A" rating, Acclaimed Santa Paula Movers.
Santa Paula Movers
We believe that every move should be an incredible, luxurious experience that makes you a lifelong customer. That's why when it comes to our team of relocation specialists, we only employ the best of the best. We begin by selecting only the most qualified relocation specialists in the business; movers who have years of previous experience and insider knowledge of the ins and outs of the moving industry. Next, we enlist each new mover hired by our company into our specially-crafted, in-depth Acclaimed Movers training course. This course was designed in-house to ensure that all of our relocation specialists are remarkably skilled in the areas of wrapping, packing, disassembly, reassembly, and physical moving of the items of our customers. It's essential to us as the premier luxury moving company in the Santa Paula area that we employ only the most professional and qualified relocation specialists in the business, so we make certain that all of our movers undergo the kind of training required to go above and beyond for our customers.

    Moreover, we equip our team with cutting-edge materials and equipment, like piano tilters, lifts, and reinforced moving boxes. Our skilled professionals and the equipment they have at their disposal combine to create a packing service with a standard of unparalleled quality. You can rest assured that when Acclaimed takes care of the packing for you, your items are sure to arrive in the same condition in which they left your care. Our packing service also includes custom crating for all special items like flat-screen TV's, artwork, pianos, pool tables, and antiques. All transportation of your belongings is carried out by our very own fleet of top-of-the-line trucks equipped with GPS. Each truck is cleaned and maintained regularly, and meets all of California's strict regulations and standards. We've already taken care of the little things, so now let us take care of the heavy lifting as well. The only finger you'll have to lift during your move is the one you use to call Acclaimed Santa Paula Movers.
Expect these options when Acclaimed Santa Paula Movers helps with your move:
Santa Paula moving consultants We have local moving consultants, whose sole focus is handling the logistics of your move. Our team will make sure that you select the perfect dates, services and supplies for you relocation. Assuaging concerns and answering moving related questions is our consultant's specialty.
Santa Paula movers Not only is our team experienced, having spent years in the local moving industry, but they're also well-trained as we put them through a rigorous program. Each relocation specialists is a company man, a clean-cut professional who cares about you and your move. All of our movers have an unequalled work ethic, and will make sure that your move is done right.
All-inclusive moving services We've got local moving covered, but we also have top-quality long distance movers, office movers, and auto movers. Our long distance movers will help you make an effortless transition to any place in the world. Our office movers will make sure your business faces as little downtime as possible, executing a quick and efficient relocation. Our auto movers will make sure that your automobile, whether it's a classic or a daily driver, makes it to your new address in the same condition it left in. We pride ourselves on having a solution for all of your moving needs.
Nicknamed the "Citrus Capital of the World," Santa Paula is not only known for its agricultural success, but also for its petroleum and oil production. As the original headquarters of the Union Oil Company of California in the year 1980, present-day Santa Paula now boasts the California Oil Museum, which operates out of the old building where Union Oil used to run day-to-day. Citrus groves greet visitors to the surrounding Santa Clara Valley, and once inside the city limits of Santa Paula, tourists find themselves taken back to a time in the past due to the painstaking efforts to preserve the city so beautifully. In addition to the sprawling citrus industry and the California Oil Museum, visitors can also stop to see the Santa Paula Art Museum and the Ventura County Agriculture Museum, which sit within the borders of Santa Paula. Murals painted by local artists tell stories all across town, as the Santa Paula Mural Project has finished several different public works of art to tell of the rich history in the area. Before the rise of Hollywood, Santa Paula was California's film capital. Since taking a back seat to Tinseltown, Santa Paula has been featured many times in popular culture, including episodes of The West Wing, Matlock, and in prominent movies such as Leave It To Beaver, Carrie, and Georgia Rule.
Santa Paula Moving Quote
    We believe that moving quotes are a major factor in your decision about which company to choose, which is why we use full transparency with our quotes, providing a list of every service, material, and item that you could or will pay for. We offer quotes that are reasonable, but that will also cover the costs we will incur during the move.
    
    When you're ready to obtain a free, no-obligation quote from Acclaimed Santa Paula Movers, feel free to try out the easy-to-use, online moving quote generator on our homepage. Also, we have our moving consultants available six days a week who can get you a quote in minutes over-the-phone. Moreover, we offer free on-site estimates for all of our Santa Paula customers. With the Acclaimed on-site, our estimator physically assesses the move with a comprehensive evaluation of the services you require so that you can get a "not to exceed" quote price. Our on-site service protects you from overlooked fees and unexpected costs. When you move with Acclaimed Santa Paula Movers, you're sure to have an effortless and enjoyable experience. Get a quote today, and we'll get you moving. Get a quote today, and we'll get you moving.