The second most populous city in Orange County, Santa Ana, only chooses one company for its luxury residential and commercial relocations, Acclaimed Santa Ana Movers. Through the years, Acclaimed's comprehensive services have evolved to exceed the needs of the Santa Ana moving market. As a full-service, luxury moving company, Acclaimed provides assistance through every phase of the relocation process.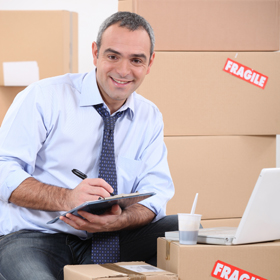 Our moving consultants help with logistics, while our expert movers take care of all of the hands on aspects. We are capable of relocating you across town, across the United States, and even across the world. Our years of experience, unequalled skills, and commitment to providing a luxury service have earned us an "A" rating from the Better Business Bureau. When you're ready to make a move, Acclaimed Santa Ana Movers is ready to make the entire process effortless and enjoyable.
Santa Ana Movers
When Acclaimed Santa Ana Movers helps you with your move, we want you to know that you are in safe, gentle hands. That's why we put all of our Santa Ana movers through an intense, in-house training program, which guarantees that they can correctly wrap, pack, and move all of your belongings. Moreover, the tools and materials we supply our movers with are the best in the business, including piano tilters, lifts, dollies, reinforced boxes, and ultra-thick moving blankets. When you choose our full packing service, we use those tools and skills to ensure the safe transportation of your belongings, to properly disassemble and reassemble all furniture that requires it, and to build custom crates for all of your valuable or fragile items. For the transportation of your belongings, we have a massive fleet of state-of-the-art trucks equipped with GPS. We clean and maintain our trucks regularly, and fuel them with a sustainable bio-diesel to protect the environment. Acclaimed Santa Ana Movers goes the extra mile to streamline the relocation process, allowing you to turn your focus to more important things.
A full-service relocation with Acclaimed Santa Ana Movers always includes:
As the second-most populated city in Orange County and the 57th most populated city in the United States of America, Santa Ana is alive with possibility. Home to Disneyland and the amusement park at Knott's Berry Farm as well as beaches just a short drive away, there's no better place to call home than Santa Ana. Everyone in the family can find excitement in the area, from the history at the Old Orange County Courthouse and the Bowers Museum to the art and thriving culture shimmering from the CSUF Grand Central Art Center. All throughout Santa Ana, murals are to be seen which tell stories of local history, and those who are more technically-minded can find a good time in the Discovery Science Center as well as the Santa Ana Zoo. For an in-depth look at the history of the entire area, the El Centro Cultural de México is not to be missed. Several major companies are headquartered in Santa Ana—which bolster the local economy significantly—including Ingram Micro, The Orange County Register, Corelogic, Behr Paint, First American Corporation, Xerox, and T-Mobile. Many musicians have played guitars and bass guitars manufactured by the Rickenbacker musical instrument company, which is located in Santa Ana.
Santa Ana Moving Quote
A moving quote is a rough evaluation of what the total cost for your move may be. This figure is subject to change if there is a need for additional packing or special services. To make sure that you get an accurate quote, have your list of items ready, and clearly describe to the moving company all of the items that you plan to move. To get a free, no-obligation quote from the experts at Acclaimed Santa Ana Movers, pick up the phone and give one of our awesome sales representatives a call. Or, go online and to our website, where our convenient moving quote generator can get you a quote in minutes. We're also excited about our free on-site estimate service, which includes a "not to exceed" quote. We'll send our Santa Ana estimator directly to your home or business, where they will assess the move and then provide you with an economical, accurate moving quote. With Acclaimed Santa Ana Movers, relocating is easy. Get a quote today, and we'll get you moving.