Whenever the city of Reseda is in the market for luxury residential and commercial moving services, Acclaimed Reseda Movers is the company that answers the call. After moving every type of home and business in the area, Acclaimed has developed fully comprehensive services that provide solutions for all of the city's moving needs. We are a full-service moving company that will assist you from the first step to the last, helping with the logistics along with the heavy lifting.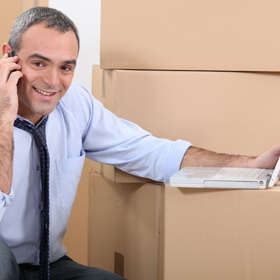 We also use the industry's strongest and most durable packing materials, along with its most advanced equipment, making certain that every move is a luxury experience. Our record of success, and continued efforts to remain the premier moving company in the city. If the time is right for you to make a move, it's time to call Acclaimed Reseda Movers.
Reseda Movers
In our efforts to make sure that every move we perform includes top quality service, we put all of our Reseda Movers through arduous training, regardless of previous industry experience. Our training not only reinforces packing and moving skills, but it also improves customer services skills, and guarantees that you will get service with a smile. Moreover, we supply our relocation specialists with top-of-the-line lifts, dollies, and piano-tilters, as well as, extra-strong moving boxes and ultra-thick moving blankets. The packing service we offer ensures the safe transportation of your belongings, includes the proper wrapping and disassembly of all bulky furniture, and also includes hand-designed crates for all delicate or valuable items. When we transport your items we use our own fleet of state-of-the-art trucks equipped with GPS. Our trucks use a bio-diesel fuel, which reduces the negative effect of our emissions, and the GPS in every truck allows us to provide up-to-the-minute tracking reports. Making a move is simple, efficient, and enjoyable when you have Acclaimed Reseda Movers in your corner.
These great options are included in every full-service move with Acclaimed Reseda Movers:
A coordinated, simple pre-move process Because we assign a Reseda moving consultant to your relocation, the planning and preparation phase of the move is suddenly a simple process. We'll guide you throughout, with answers and assistance readily available whenever necessary.
Clean-cut, skilled Reseda Movers Whether it's just across the street, or across the world, our Reseda movers will use precision and care when moving your stuff. We only hire professionals who care about what they do, and how they do it, meaning you get service with a smile from hardworking individuals every time. Each of our movers is a company man, and we don't hire any temporary laborers.
Acclaimed long distance movers We have assembled a team of the finest long distance movers in the world. Our team can effectively help you transition to any place around the globe. Never has it been easier to make a long distance transition.
Acclaimed office movers Our office movers are commercial moving experts who can help you relocate an office, warehouse, retail facility, restaurant, medical clinic, and more. You get a streamlined transition that will have your business up and running in a new location as soon as is humanly possible.
Acclaimed car movers With closed-crate and open-air transportation available, our auto movers will make sure that your vehicle arrives in the same condition it left in. We make it easy so bring your car with you anywhere in the world.
Founded in the year 1912 and bustling with business by 1915, the district of Reseda in the San Fernando Valley of Los Angeles, California, is a hotspot for ethnic diversity and progressive thinking. In 2008, The Los Angeles Times commenced their "Mapping L.A." project, which found that in Reseda alone, 43.1% of the residents were found to have been born abroad. Reseda is known also for its prominence in popular culture, as it has appeared in notable films such as The Karate Kid, Boogie Nights, Erin Brockovich, and Terminator 2: Judgment Day. Reseda was featured in Tom Petty's classic song, "Free Fallin'," and several television shows mention Reseda, such as The X-Files, Entourage, and Angel. Reseda is prone to natural disasters like earthquakes due to its geographic location, but the city continues to rebuild after it's hit, displaying its true resilience and dedication to overcoming tragedy.
Reseda Moving Quote
The fastest way to get a moving quote is to go through an online moving quote generator, or through an over-the-phone conversation with a moving company. Both methods get you a remote quote in a matter of minutes, but they leave you open rising costs later. Because the moving company does not physically assess the move, they cannot guarantee that the estimation they give you will reflect the final cost. In order to have a quote that accurately demonstrates what the final costs should be you need to have an on-site estimate performed. Acclaimed Reseda Movers offers free, no obligation online, over-the-phone, and on-site estimates. We're happy to provide you with a quote via remote methods, but with our free on-site estimate you get a "not to exceed"quote price. We send an expert estimator to your home or business so that we can provide you with the most economical and fair estimate possible. Our on-site also protects you from any unexpected costs and fees. When you need to move into or out of the city, you need Acclaimed Reseda Movers. Get a quote today, and we'll get you moving.