When the breathe-taking, beach-front community of Playa Del Rey has any moving needs, they turn to a company that always provides a quality service at an economical rate, Acclaimed Playa Del Rey Movers. In the last ten years, Acclaimed has established itself as the go-to luxury moving company for the area, performing all manner of residential and commercial relocations. We continue to aggressively adapt as a company, and with every move we further tailor our services towards the local moving needs.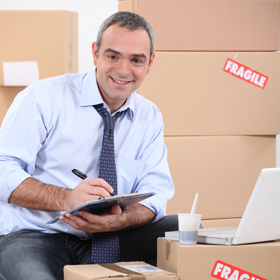 As a fully comprehensive, full-service moving company we can help you move across Los Angeles, across the United States, or even across the world. When you need a moving company you can trust, you need Acclaimed Playa Del Rey Movers.
Playa Del Rey Movers
The most common concern when making a move is the protection of your stuff, which is why Acclaimed Playa Del Rey Movers uses only the strongest packing materials and the industry's best equipment. From piano tilters to extra-strength packing tape, we use the finest materials to ensure that your items are properly protected. Moreover, we make sure our Playa Del Rey Movers go through our in-house training, which leaves no doubt about whether they can correctly pack and move any item. When you choose to let us handle the packing, you can enjoy the fact that our techniques reinforce your boxes, you can observe as your large furniture is properly disassembled and packed, and all of your electronics, artwork, antiques, and delicate items are packed into hand-built moving crates. All transportation of your belongings is carried out by our top-of-the-line trucks equipped with GPS. Each GPS allows us to track our shipments, and all of our trucks meet California's regulations and requirements. Every move with Acclaimed Playa Del Rey movers is going to be a luxurious, effortless experience for you. If it's time to move, it's time to call Acclaimed Playa Del Rey Movers.
Each time we perform a move, Acclaimed Playa Del Rey Movers includes:
The use of state-of-the-art tools and packing materials Our new piano tilters eliminate the need for extra labor, saving you on your total costs. Our super-thick moving blankets, reinforced boxes, and extra-strong tape ensure that every item we pack will be safe for the duration of the relocation. If you have tight spaces or limited room to move, we have lifts and dollies to facilitate the whole process.
Reliable trucks for transportation Not only do we clean, and maintain our trucks regularly to make sure that your stuff gets quality treatment, but we also fuel them up with bio-diesel fuel to reduce the impact of our emissions. The move to bio-diesel is just a small step in Acclaimed's efforts to protect the environment and revolutionize the moving industry.
A team of Playa Del Rey's finest movers All of our movers are experienced before we hire them, no day laborers here, and we further their skills through arduous training. In addition to their skills and experience, our movers have an unparalleled work ethic, and desire to help you. Service with a smile is standard procedure for every relocation.
Playa Del Rey, which is Spanish for "Beach of the King," is a waterfront neighborhood  of Los Angeles which was originally a swampy wetland. The first efforts to drudge the marsh were undertaken in the 1870s, but the area was flooded in the winter three years later, which is known now as the Playa del Rey Lagoon. Today, most of the southern part of Playa del Rey is owned by the City of Los Angeles, who bought and subsequently demolished all the homes due to plans to expand the nearby Los Angeles International Airport (LAX). Most of the other areas of Playa del Rey are sectioned off for strictly residential purposes, with residents flocking to other parts of Los Angeles for their commercial needs, but there are a few restaurants and offices within the Playa Del Rey district. The expansion of LAX is a tense issue for the residents of Playa Del Rey, as nice from aircraft at all times is already a strain on daily life.
Playa Del Rey Moving Quote
Although there are a variety of ways to obtain a moving quote, the most accurate estimate always comes from an on-site evaluation. An on-site estimate allows the moving company to send an industry expert to physically evaluate the move, and in turn provide you with an estimate that is a very specific figure. Without having an on-site performed, any estimate you receive will be a rough figure that may not accurately reflect the total cost. Additionally, any on-site service should be completely free. Acclaimed Playa Del Rey Movers offers free on-site estimates, as well as, free, no-obligation quotes online and over the phone. Our online quotes can be obtained through the moving quote generator on our homepage, while our sales people are standing by six days a week to quote you over the phone. When we schedule you for a free on-site estimate, our expert estimator will come to you, and then provide you with a fair and accurate quote. An often stressful experience is now effortless and enjoyable with the help of Acclaimed Playa Del Rey Movers. Get a quote today, and we'll get you moving.