The antiquated, residential community of Palms has come to trust only one company for all luxury residential and commercial relocations, Acclaimed Palms Movers. Acclaimed has spent years establishing itself in the area, and has adapted its services to perfectly suit the local moving needs. We know how to work in historic homes and offices, using extreme care to protect both the furniture and building.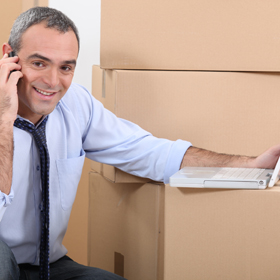 With the industry's best movers, and most advanced equipment, Acclaimed can safely and securely transport any items over any distance. As a fully comprehensive, full-service, luxury moving company, Acclaimed assists you through every phase of your move, allowing you to turn your focus on to more important things. We're doing our part to make a stressful situation into a relaxing experience. When you need to move to or from the area, you need Acclaimed Palms Movers.
Palms Movers
Acclaimed maintains its position as the premier company for all relocations because we have only the very best movers and tools. Our Palms movers have been in the moving business for years, and they've also been through our training, which ensures that they can pack and move any item or piece of furniture. Moreover, the equipment we use is cutting-edge, which lessens the effects of the oft back-breaking labor (improving efficiency), and increases the protection for your stuff. When our Palms movers pack for you, your boxes are properly filled and padded, all disassembly and reassembly is taken care of, and every item is sure to travel safely. For transportation, we have a massive fleet of top-of-the-line trucks equipped with GPS. These trucks run on a sustainable, bio-diesel fuel, and the GPS allows us to track every step of your move. A move with Acclaimed is an effortless and enjoyable experience. If it's time for you to make a move, it's time to call Acclaimed Palms Movers.
Each move with Acclaimed Palms Movers will include:
A team of industry-leading professionals Our Palms movers will use precision and care when handling your stuff, and will work with a sense of urgency to save you money and time. Each mover is clean-cut, and has spent years working for Acclaimed, so you can rest assured your belongings are in good hands.
A service to suit your any need Whether you need long distance movers, office movers, or car movers in addition to your local services, we can help. Our long distance movers pride themselves on transitioning people all around the world, while our office movers make sure your relocation is quick, simple, and effective. When you need a vehicle moved, we have options to suit your specifics needs and desires. With Acclaimed you'll find a moving solution for all of your moving needs.
The most advanced tools and materials available Our state-of-the-art piano tilters eliminate the need for additional movers, while our reinforced boxes ensure the protection of your stuff, both of which save you money. We also have lifts, dollies, super-thick moving blankets and other equipment that is designed to simplify the relocation process and save you time and hard-earned money.
The area of Palms, California, is a small community with a big personality. As the ninth-most densely populated neighborhood in Los Angeles (according to the 2000 United States census results), Palms is often cited the oldest residential neighborhood annexed to Los Angeles, which occurred in 1915 despite the first residents moving there in the year 1886 for agricultural and vacation opportunities. Today, some 42,000 residents call Palms home, and the community prides itself on its diversity. There is a high percentage of foreign-born residents, which is celebrated in Palms as a signal of different cultures unified by a geographic location. Despite lower percentages other places in Los Angeles, Palms has the honor of citing that nearly half of its residents hold four-year bachelor's degrees, and there is also an unusually high percentage of residents aged 19-34.
Palms Moving Quote
The fastest way to obtain a moving quote is online or over the phone. Both methods get you a quote in minutes, though it will only be a rough estimate for the total cost of the move. Gathering multiple moving quotes allows you to weed out which companies are not reputable, and which companies are. Get as many quotes as you can, and if possible, start a bidding war for your move. Acclaimed Palms Movers offers free, no-obligation quotes over the phone and via the internet, as our sales people are available six days a week and our online quote generator is available at all times. We also perform free on-site estimates for all Palms customers, which gets you the most accurate estimate available. With the on-site, an expert estimator comes to your home or business to calculate the move, and then present you with a written, binding moving quote. When you want a stress-free, enjoyable relocation experience, you want Acclaimed Palms Movers doing the work. Get a quote today, and we'll get you moving.