One of the fastest-growing, young cities in California, Moreno Valley, chooses only one company for all luxury residential and commercial relocations, Acclaimed Moreno Valley Movers. After more than ten years in the area, Acclaimed has developed fully comprehensive moving services that meet or exceed the needs of the ever-changing local moving market.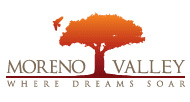 We have the ability to safely and securely move your home or business anywhere in the world. Our Moreno Valley Movers are the industry's best, and have the industry's most advanced equipment and materials at their disposal as well. We have dedicated ourselves to providing the most luxurious, incredible moving experience possible, and our efforts distinguish us as professionals that will get the job done. No matter where you need to go, no matter how much stuff you're moving, Acclaimed Moreno Valley Movers will move you there.
Moreno Valley Movers
Acclaimed believes in putting our Moreno Valley movers in a position to succeed, which is why all of our relocation specialists go through are in-depth, in-house training program. Our training guarantees that our Moreno Valley movers can properly wrap, pack, and move any item. Moreover, we supply our team members with cutting-edge equipment and materials like piano tilters, super-thick moving blankets, and extra-strong wardrobe boxes. When we take care of the packing for you, it ensures the safe transportation of your belongings, and includes customized protection for all electronics, pianos, pool tables, artwork, and antiques. For the transportation of your belongings, we use only bio-diesel trucks from the massive Acclaimed fleet. Our trucks come equipped with GPS, which prevents our drivers from ever getting lost and allows us to track your shipment through the entire process. We've got the finest materials, movers, and equipment, meaning your move is sure to be an effortless and enjoyable experience. When you're ready to move, Acclaimed Moreno Valley Movers is ready to help.
When you move with Acclaimed Moreno Valley movers you should expect:
Assistance with planning and preparations Our Moreno Valley moving consultants will guide you through the pre-move process, helping you pick a moving day, gather supplies and materials, and decide which services are best for your move. The goal of our consultants is to remove any stress and concerns.
A comprehensive inventory Our Moreno Valley movers will work with you to create a detailed inventory of every item being moved. We'll also create corresponding, color-coded labels for your boxes, which helps keep the entire process organized and efficient.
A full pack of all items Regardless of whether you have a home or business, we can professionally pack all of your items. Not only do we understand how to correctly fill the space in a box to prevent damage, but we also understand how to disassemble large furniture, and we're experts at loading items into trucks. Our packing service is the best way to protect your items for the relocation.
Customizable services for a personalized moving experience In addition to local moves, we handle long distance moving, office moving, and auto transport. Our commercial service is great for any business, and we work efficiently so that there is as little transition time as possible.
Despite only somewhat recently being incorporated, the city of Moreno Valley has seen a rapid rise in population over the past two decades. With a rich history which dates back over 2300 years, it's no surprise that the area is home to many different demographics of people. There are close to two hundred archaeological sites which date back to prehistoric times within the city limits of Moreno Valley, most of which are milling locations for the chaparral seed. There are many pictographs and petroglyphs in rock formations, which allow us to learn the fascinating history of the first inhabitants of the land. After being incorporated as a city in 1984, the Moreno Valley area burst with new residents, claiming the title of the second-largest city within Riverside County. Growth staggered in the early 1990s with the waning economy in the area, but perked up again at the turn of the century when exorbitant costs of living in Los Angeles drove many to seek more affordable places to live. The influx of new residents, in turn, made Moreno Valley quite attractive to commercial ventures as well, which spurred the economy and cultivated the bustling city it is today.

    These days, the residents of Moreno Valley enjoy strong community ties with a strong influence in art, history, parks and recreation. Each year, Moreno Valley hosts an annual art festival called "Artier Fest," and has several different organizations to get creative in the community including the Moreno Valley Arts Commission, the Moreno Valley Master Chorale, and the Moreno Valley Wind Symphony. In addition to playgrounds for kids to run around and be kids, Moreno Valley has miles of maintained trails to go hiking, biking, or even ride a horse!
Moreno Valley Moving Quote
Moving quotes not only give you a rough estimation for the total cost of your move, but they also give you a brief glance into how a company operates. If a quote is too low, it's probably the efforts of a rogue mover or an unlicensed company trying to get a foot in the door. If a quote is too high, it's a company that overvalues the services it provides. It's important to get as many quotes as possible so that you can compare and contrast the various services offered at the different rates. For a free, no-obligation quote from Acclaimed Moreno Valley Movers make a stop at our website and try out the moving quote generator, or call one of our awesome sales representatives who can get you a quote in minutes. Also, we can now perform free on-site estimates for our Moreno Valley customers, which come with a "not to exceed" quote for the move. Our estimator visits your home or business and personally evaluates the move, meaning you get the most accurate estimate possible. Acclaimed Moreno Valley Movers goes above and beyond to make relocating a simple, efficient experience. Get a quote today, and we'll get you moving.