When the quaint, rural city of Maricopa needs residential or even commercial moving services, they turn to the trusted experts at Acclaimed Maricopa Movers. For the better part of a decade, Acclaimed has established itself as the go-to moving company for all local relocations. We have developed our local services around the various needs of Maricopa, allowing us to provide the most comprehensive and affordable moving services in the community.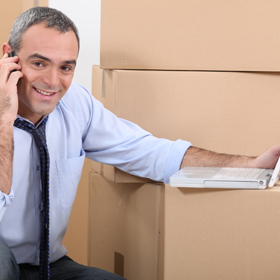 Whether you need to move across town, across the country, or even across the globe, we have the tools and knowhow to make that happen. Our track record of successful moves speaks for itself. When you're ready to move into or out of the city, Acclaimed Maricopa Movers is ready to help.
Maricopa Movers
Every Acclaimed Maricopa mover has years of experience performing relocations, but we provide them with additional training to ensure that they are experts in the field of wrapping, packing, and moving any item. On top of that, we equip our Maricopa movers with state-of-the-art equipment and materials, so that they can properly protect your belongings. When Acclaimed takes care of the packing, your items are sure to arrive in the same condition they left in, and all delicate or valuable items are packaged in custom-built crates. Furthermore, we use only our own trucks for the transportation of your belongings, top-of-the-line, bio-diesel beasts that are gentle on the environment. No matter what you need to move, no matter where it's going, Acclaimed has the knowledge and tools to get you and your stuff their quickly and efficiently. If you need to move, then you need Acclaimed Maricopa Movers.
When you move with Acclaimed Maricopa Movers expect to get these great services and options:
Communication and coordination The lines of communication open as soon as you get a quote, and our Maricopa moving consultants begin their work. They help you arrange dates, find the necessary materials, and pick the services that meet your needs. Our consultants have answers for all moving related questions.
Luxury service We care about you, and your move, which is why we only assign our best Maricopa movers to your relocation. Not only have they been with us for years, but they've got years of experience in the industry, and will use the appropriate amount of care and precision when handling your stuff. Also, expect an incomparable work ethic at all times.
The finest materials and equipment We have reinforced boxes, premium moving blankets, state-of-the-art piano tilters, lifts, dollies, etc. to ensure that all of your stuff is properly wrapped and moved. Our materials, equipment, and movers are so good at what they do that our packing service provides the peace of mind that your belongings will arrive safe and sound. Additionally, our fleet of trucks features only reliable, bio-diesel vehicles of varying sizes.
Long distance moving We offer long distance moving services that can transport you across the country or around the world.
Office moving We offer comprehensive commercial moving services for all business looking to make a move. Offices, warehouses, retail facilities, restaurants, medical clinics, you name it and we can move it.
Auto transport We understand that vehicles may need to travel with you, which is why we offer multiple options for vehicle shipping. Closed-crate and open-air transportation are available.
Maricopa, California, began as nothing more than simply a post office. Over time, it has flourished into a thriving, tight-knit community. Incorporated as a city in 1911, the little community of Maricopa, California holds a population of just over a thousand and has retained its small-town charm for the past nine decades. Maricopa is situated just north of Los Padres National Forest and south of the city of Bakersfield. Maricopa's claim to fame came from the Midway-Sunset Oil Field, which boomed oil production during the 20th century with its super oil well called the "Lakeview Gusher," which put Maricopa on the map as an un and coming community which still continues to thrive in Southern California today.

    In the present day, Maricopa is just next to the Carrizo Plain National Monument, which is a vast stretch of plain land some 150 miles long and about 15 miles across where visitors can run, hike, bike, and take guided tours. Pictographs from early inhabitants of the area can be listed at Painted Rock, which sits in the National Monument, as well as walk along the infamous San Andreas Fault line.
Maricopa Moving Quote
Your moving quote, the rough estimation of the total cost of the move, will be based on an hourly rate for local moves and a cubic feet or weight measurement for all long distance moves. Make sure the quote includes any packing materials, special equipment, or extra services that you may need. To ensure the accuracy of your quote, be prepared to clearly describe to the moving company every item that will be making the journey. Acclaimed Maricopa Movers now offers quotes online, through our websites moving quote generator, as well as, over the phone through one of our sales representatives. Additionally, we would love to set you up with a free on-site estimate, where our estimator will come to your home or business to personally evaluate the relocation. Our on-site service gets you the most accurate moving quote in the industry, and because we come to you, it's simple and efficient. Submit your information for a quote today, and we'll get you moving.