For the multi-cultured neighborhood of Lincoln Heights, one name is synonymous with reliability, professionalism, and affordability in the local moving industry, Acclaimed Lincoln Heights Movers. Acclaimed is the premier, residential and commercial moving company in the area, offering fully comprehensive services, which are perfect for homes, apartments, offices, condos, warehouses, retail facilities, and any other establishments in the community.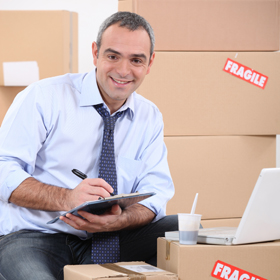 For more than a decade, Acclaimed has built up experience relocating every type of building the area has to offer, and our services have evolved to fit exactly what Lincoln Heights needs. Our dedication to providing a luxury moving experience has earned us a 5 stars on Moving Authority's comprehensive list of the best movers. When you're ready to move to, or from, the community, you need the assistance of Acclaimed Lincoln Heights Movers.
Lincoln Heights Movers
In order to provide you with a luxury moving experience, Acclaimed supplies all of its Lincoln Heights Movers with industry-protection-standards setting packing materials. We also put our entire relocation team through a strenuous, challenging training program that ensures that they are experts at wrapping, packing, and moving any item. With our skills and tools, Acclaimed's packing service ensures the safe transportation of your belongings, further fortifies your boxes for the transition, and comes with specially tailored crates for all delicate and valuable items. All transportation during our Lincoln Heights relocations is conducted by our very own fleet of top-of-the-line trucks equipped with GPS. We have combined ultra-skilled movers with state-of-the-art technology, so that your next move with Acclaimed is an effortless and enjoyable experience.
When you move with Acclaimed Lincoln Heights Movers you can rest assured that you will get:
Comprehensive services that fit your needs We have customizable services that include; long distance moving, commercial moving, and vehicle shipping, making it easier than ever for you to relocate your home or business.
Expert moving consultants and movers All of our moving consultants have years of experience working in the industry, and can guide you through every phase of your relocation. In addition, our Lincoln Heights movers have industry leading training and materials, which qualifies them to move anything.
Top quality materials and equipment Acclaimed Lincoln Heights Movers uses only the safest, strongest, and most advanced materials and equipment on every move. When you move with us, you can rest assured that your belongings are taken care of.
An environmentally sound relocation We comply with all of California's strict laws regarding trucks and transportation, and also use an eco-friendly bio-diesel fuel in all of our moving trucks. Furthermore, our contracts are printed on soy paper, using a soy based ink. Acclaimed is doing its part to preserve and respect Mother Nature.
Considered the oldest neighborhood in Los Angeles, the streets of Lincoln Heights are lined with nineteenth-century Victorian mansions and a glimmering vision of days gone by. Its luxurious atmosphere has attracted wealthy Angelenos and newcomers alike since its establishment in the mid-1800s. After the Civil War, several prominent Confederate figures flocked out west and settled here, in what used to be knows as "East Los Angeles," including Albert Sidney Johnston and John Strother Griffin. Following their deaths, the residents moved to change "East Los Angeles" to its current Lincoln Heights.

    In the present day, Lincoln Heights offers its visitors and residents a quirky, hip way of life. You can take a leisurely stroll through Lincoln Park (or take the kids to get lost in its mazes or climb onto its jungle gyms), or you can work on your upper body strength at The Stronghold, which is a ropes and rock-climbing gym housed in the warehouse which was formerly a Pabst Blue Ribbon Factory. For shopping, Lincoln Heights is full of pop-up stores as well as trendy boutiques. Dining is a spectrum of culture, as Lincoln Heights is such a diverse community with several different cuisines all coexisting together.
Lincoln Heights Moving Quote
When you're ready to move into or out of Lincoln Heights, the first thing you will do is gather moving quotes to get an idea of what the total cost of your move will be. Be sure to get as many quotes as possible, so you can gauge who offers the perfect services for your move at a rate that fits your budget. For a free, no-obligation quote from the affordable and efficient moving experts at Acclaimed Lincoln Heights Movers, visit our website and try out our moving quote generator. You can also call and speak directly with one of our sales representatives, who will provide a quote over the phone. Additionally, we would love to set up a free on-site estimate for you, where our Lincoln Heights estimator comes to your home or business and personally evaluates the move. The on-site gives you the most accurate moving quote possible, and protects you from unexpected or overlooked fees. With multiple options for how to get a quote, Acclaimed has made it easier than ever to start a relocation. Get a quote today, and we'll get you moving.