For over a decade, Acclaimed Lake Balboa Movers has established itself as the go-to moving company for all commercial and residential relocations. We have refined our skills moving every type of home and business in the area, adapting our services to perfectly fit the moving needs of the Lake Balboa area.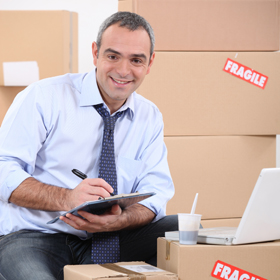 Whether you need to move across town, across the country, or even across the world, we will help you get there. Our job is to take care of the coordination and heavy lifting, so that you are left with a relaxing and enjoyable experience. In recognition of our continued hard work and dedication, Google ranks us with 4 and a 1/2 stars while Moving Authority ranks us as a 5 star company.

Lake Balboa Movers
The team members at Acclaimed Lake Balboa Movers are dedicated to providing the most affordable and efficient luxury moving services in the city. As a result, we have supplied all of our Lake Balboa movers with industry-protection, standards-setting packing materials. We've also put each team member through an intense training program, which ensures that any of our movers dispatched to your home can properly wrap, pack, disassemble, and move any item. When our Lake Balboa movers take care of the packing for you, your items will arrive in the same condition they were in when they left your care. All of the electronics, artwork, antiques, and delicate items you have will receive specialized protection and crating. Moreover, all of our transportation is conducted by Acclaimed trucks, and our massive fleet features only state-of-the-art, bio-diesel machines. Our trucks are outfitted with global positioning systems (or GPS), so that our customers can track their household goods with ease at any step in the move. We've combined the best Lake Balboa movers with the best materials in the industry to provide you with the ultimate luxury moving experience.
Every luxury relocation with Acclaimed Lake Balboa Movers comes standard with these options:
The industry's strongest and most durable packing materials Reinforced boxes, super-thick moving blankets, custom wardrobe boxes, hand-built crates, ink-free packing paper; we use only the most advanced materials available to ensure that your valuables are transported safely.
Hands-on moving consultants These industry experts have answers for all of your questions, and solutions for all of your moving needs. If you need help picking the right services, finding the perfect date for your move, or gathering materials, these guys are here for you.
An experienced, professional team of movers Our Lake Balboa movers know the industry, they know the area, and they are prepared to handle any type of move. These are not day laborers, but long-time employees who will understand the care and precision that your move requires. Our staff of movers specialize in moving high-profile customers, so they place high emphasis on treating your household goods with the utmost care throughout every step of the process of relocation.
Long Distance Moving We perform relocations all around the world with our international moving services and across the country with our interstate moving services. If you're traveling far, we can help get you there.
Office Moving

If you have a business that needs to make a transition, regardless whether it's an office, warehouse, retail facility, restaurant, or something else, we can help. We understand that time is money, so it's our aim to limit downtime during the move so that you can get back to business as soon as possible.

Auto Transport

We offer multiple methods for moving your vehicle, all of which are suitable for any kind of automobile. We can move mainstream vehicles as well as Classic and Luxury vehicles, and we offer the option of either open trailers or closed trailers for the convenience of our customers.
The neighborhood of Lake Balboa—nestled between Reseda and Van Nuys in the San Fernando Valley—begins at the top along the borders of the Van Nuys Airport and cuts along the bottom with the Los Angeles River through the vast expanse of green space that is Anthony C. Beilenson Park. The name "Lake Balboa" is given to this area for the lake itself, located in Beilenson Park, which is outlined by a network of hiking trails and shaded by a lush sprawl of Japanese cherry trees. This area is picturesque and postcard-worthy, especially in the months of March and April when the blossoms on the trees flourish into a plumes of delicate blush as far as the eye can see. In the summertime, residents can make use of their access point to the LA River to go fishing, canoeing, or kayaking along the waterway. If you don't own a canoe or kayak but want to join in the fun, don't worry! There are several places in the nearby Sepulveda Basin and Elysian Valley where you can pick up a small boat for rent, and be well on your way to riverside fun.
Lake Balboa Moving Quote
Rates for the California moving industry are regulated by the Public Utilities Commission, which sets a maximum and minimum allowed tariff. The California PUC also mandates that moving companies charge a "double drive time" fee on all local moves, to make certain that there is a verifiable driving and fuel charge. You will learn about these rates and fees when you receive your first moving quote, which has a rough estimate for the total cost of your move. To get a free, no-obligation quote from Acclaimed Lake Balboa Movers, check out our website and enter your information into the moving quote generator. Or, you can call one of our amazing sales representatives and get a quote over-the-phone. Also, Acclaimed can now set up a free on-site estimate for all of our Lake Balboa customers, which comes with a "not to exceed" quote. This is recommended due to the fact that with this method, our estimator comes to your home or business and physically assesses the move before issuing a comprehensive quote, so you are protected from unexpected fees and costs. Getting a quote has never been easier, so contact Acclaimed today and we'll get you moving.