For Guadalupe, California—the sister city of Santa Maria—there is only one moving company that has the experience and equipment to properly perform local moves: Acclaimed Guadalupe Movers. We have worked on every type of home and business that the city has to offer, and we've designed our services to not only meet, but exceed Guadalupe's needs.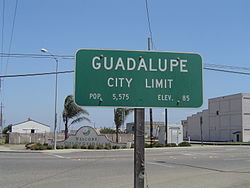 Our commitment to excellence has led important sites in the industry, such as Google and Moving Authority, to recognize us at a top-rated company and we pride ourselves on creating long-lasting, professional relationships with each person we help. As a fully comprehensive, full-service luxury residential and commercial moving company, we are the go-to option for any and all relocations in the Guadalupe area.
Guadalupe Movers
Acclaimed Guadalupe Movers is the perfect choice for any move into, or out of, the city of Guadalupe. Each member of our team of Guadalupe movers goes through an innovative training regimen, which is designed by Acclaimed Moving and Storage to perfect their wrapping, packing, and moving skills. When a customer needs assistance with packing, our professionals will properly fill each box, providing maximum protection for the belongings inside. We also create custom crates for all specialty items, and properly break down and wrap all large items. Our movers make sure to pack with the industry's strongest and safest packing materials for maximum durability during transport. Furthermore, our Guadalupe movers use our ever-expanding fleet of top-of-the-line trucks to transfer your belongings from Point A to Point B. Each of our trucks is equipped with a global positioning system (or GPS), so our customers can easily track and monitor their possessions at any given moment. In addition, our fleet of trucks run on bio-diesel fuel in efforts to reduce our carbon footprint in a rapidly polluted world. You can rest assured that any move with Acclaimed Guadalupe Movers will be an efficient, relaxing experience without damaging of your household goods or the environment.
Moving services with the Acclaimed Guadalupe Movers and your full-service moving experience will include:
Comprehensive assistance with planning, preparations, and packing Our Guadalupe moving consultants will help you choose dates for moving, find appropriate supplies, and prepare your home for your move. Our Guadalupe moving team will properly pack up your household goods and handle the heavy lifting so you don't have to.
The Finest Guadalupe Movers We hire only the most experienced and professional candidates to join our relocation team, and then we give them additional training so that we can absolutely guarantee our level of top-quality service and customer satisfaction. Only those who are able to learn our expectations and do the job correctly will be sent to your home to help you move. You'll find that there are no better movers in Guadalupe than the ones at Acclaimed Moving and Storage.
Long Distance moving With our international and interstate moving services, your business or home can make a smooth and streamlined transition to any place in the world, worry-free.
Office Moving

Specifically designed to handle the relocation of any type of business, this service is perfect for offices, warehouses, retail facilities, storage units, restaurants, and so much more. We understand that time is money; we limit downtime so you can get back to business. If you need to keep your company running during the time of your move, we can swiftly and discreetly handle the transport of your items while you keep working. You won't even notice that you were moving at all!

Quality transportation All transportation is handled by Acclaimed Moving and Storage trucks, which are reliable, bio-diesel, environmentally-friendly vehicles. We don't contract your job out to another company for any reason. We aim to be your one-stop-shop for everything related to your move.
Known for its classic sand dunes, the small city of Guadalupe, California, has seen a steady rise in population over the course of the past half-century; in 1950, there were only about 2400 residents, and that number has nearly doubled in the years since. Despite it being such a small town, there are many places in the community which are points of interest for a variety of people: the area boasts a Buddhist temple, a Masatani Mansion, a veteran's center, library, as well as the Rancho de Guadalupe Historical Society. Also, you can check out the trademark sand dunes at the nearby Rancho Guadalupe Dunes Preserve and remark on their beauty as the biggest dune system south in Southern California that is still in existence today.
Guadalupe Moving Quote
A moving quote can be determined by multiple factors. However, for most local moves, it will be based on an hourly rate, while long distance moves will be determined by the amount and weight of items being moved. Maximum and minimum rates are determined by the Public Utilities Commission and the Department of Transportation. When you are ready to move, start by getting a moving quote from Acclaimed Guadalupe Movers, either online through our quote generator or over the phone through one of our courteous and experience sales representatives. Additionally, we can also schedule a free on-site estimate, which will simplify the quote process even more. Our estimator comes to your home or business, assesses the move, and then provides you with a written quote that protects you from hidden fees. Get a quote today, and we'll get you moving. You can give us a call or send us an email through our website and we can get you started on your move. Our associates will be on the line Monday through Friday during regular business hours. Contact Acclaimed Movers and Storage in Guadalupe to get your move started as soon as possible.