Acclaimed Glendale Movers are licensed movers ready to help you with your moving process with our A+ service. The third largest city in Los Angeles County, Glendale has a diverse culture, which includes the largest Armenian community in the United States. "The Jewel City", as its nicknamed, sports an abundance of offices representing various industries, extravagant shopping including the Glendale Galleria, and countless fine dining establishments. With the nightlife and excitement of Hollywood only minutes away, and the beach just beyond that, Glendale is right in the thick of the action.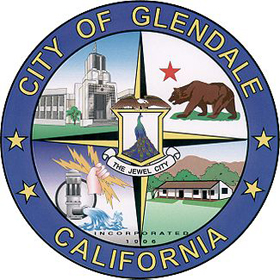 Incredible weather, nearly year-round, promotes outdoor activities, including; hiking in Griffith Park, exploring the Griffith Park Observatory, swimming in the Pacific Ocean, and camping in the Angeles National Forrest. If you find yourself there for business, downtown Glendale is occupied by companies like Nestle, Citi, DreamWorks SKG, and The Walt Disney Company. Regardless of what brings you to Glendale, it's an incredible place to settle down. When you decide to move into, or out of, the city, hiring the right Glendale movers is crucial. Whatever you're moving, Acclaimed Glendale Movers and Storage has the equipment and experience to get the job done right.
Glendale Movers
With years of experience performing office moves and residential relocations in, and around, Glendale, Acclaimed Glendale Movers and Storage is prepared to conquer any obstacles the city can present a move. Congested neighborhoods and narrow roads are not a problem, as their Glendale movers have a unique knowledge of the roadways and how to navigate moving trucks through them. Acclaimed can tackle custom homes, custom offices, track homes, warehouses, retail facilities; no move is too big or too complicated. They're Glendale movers who actually care about your move, and have a desire to get it done as quickly and efficiently as possible. As a 5 star company on Moving Authority, and an industry leader in customer service, Acclaimed can lay claim to the title, premier Glendale moving company.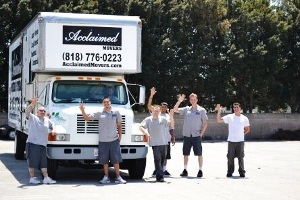 A full-service, fully comprehensive, luxury moving company, Acclaimed Glendale Movers and Storage can relocate you across Glendale, across the country, or even across the world. Each of their Glendale movers has unique training in how to properly wrap, pack, and move any item; including, but not limited to; artwork, automobiles, pool tables, pianos, conference tables, desks, and network servers. This professional packing service is the difference between items showing up in the condition they left in, or damaged and destroyed. Moreover, Acclaimed maintains a fleet of top-of-the-line trucks equipped with GPS, and uses only industry leading packing materials. If storage is required, Acclaimed offers space in their state-of-the-art, climate-controlled, secure storage facility; featuring 24 hour surveillance, and a temperature control system that keeps away pests, mold, and rust. Acclaimed has Glendale movers with an unmatched knowledge of the city, as well as, how to safely and securely move any item. They continue to set the standard for excellence amongst Glendale moving companies.
Glendale Moving Services
Acclaimed Glendale Movers and Storage's unmatched service includes:
An incredibly friendly and helpful support staff, available by phone during business hours and by email at all times, to provide quotes and assistance.
Guidance throughout your relocation, with the help of Acclaimed's courteous and knowledgeable moving consultants. Each consultant is an expert in all forms of moving, and can provide answers and solutions to any questions or concerns.
Professional, clean-cut movers, who are company men that all have years of experience in the moving industry, and specifically in Glendale. Their specialists understand the care and concern that each move requires.
A full, itemized inventory of everything being moved, including labels for boxes, which helps keep your move organized from start to finish.
A full wrap and pack of your belongings, which includes the use of industry leading packing materials: industrial strength packing paper, ultra-thick moving blankets, reinforced boxes, and custom built crates. The highlight of this option is the proper packing job, which ensures that safety and security of every item packed.
Professional disassembly and assembly of all large furniture, including beds, couches, desks, pool tables, and pianos. Also, the proper transportation of high-end belongings like artwork, sculptures, pool tables, and pianos.
Transportation provided by a fleet of new, bio-diesel powered trucks. These trucks feature a GPS system that provides up-to-the-minute tracking, allowing Acclaimed to pin-point the location of your belongings at any time.
Storage space in an enormous, secure storage facility. The facility features 24 hour surveillance and a temperature control system that prevents pest, mold, and rust from affecting your belongings.
Glendale Moving Quote
Getting an accurate moving quote is the first, and most important, step in the relocation process. You can obtain a free, no-obligation quote for Acclaimed Glendale Movers and Storage online, at www.Acclaimedmovers.com, or over the phone at this toll-free number, (888) 668-3703. Acclaimed also offers free on-site estimates, and "Not to Exceed" quotes, to protect the customer and provide the most accurate estimates possible. Their on-site estimator comes to you, making the process of getting an accurate quote effortless.
Acclaimed Glendale Movers and Storage offers the industry's best service at the most affordable rates. Their goal is simply to define professionalism and reliability in the moving industry. Acclaimed continues to aggressively evolve and improve with each relocation their movers perform. That commitment to excellence has helped Acclaimed become the expert Glendale moving company.When choosing Glendale movers, look no further than Acclaimed Movers and Storage, We'll get you moving.