The most experienced, trustworthy moving company in Fountain Valley, Acclaimed Fountain Valley Movers has been relocating homes and businesses in the area for nearly ten years. Whether you need to move a house, apartment, condo, office, warehouse, retail facility, storage unit, or anything else, we can handle it. We have routes to Fountain Valley that will enable us to quickly move your things there or out of there based on what your plans are.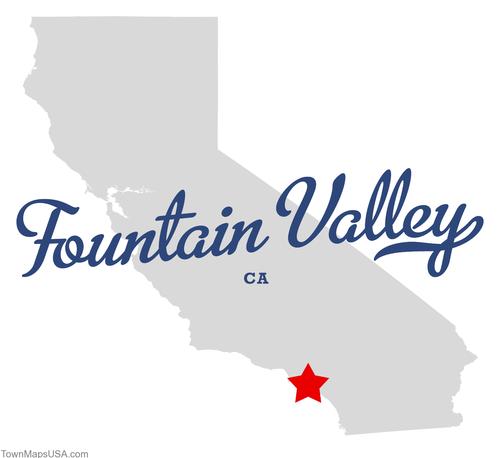 Our Fountain Valley movers know every inch of the city, and have the ability to overcome any obstacles that can arise during your move. In addition to having the most well-trained movers and industry leading equipment, we are dedicated to developing real, lasting relationships with all of the people we help. As a testament to our quality service and reputation for excellence, Acclaimed Fountain Valley Movers is listed as a 5 star company in Moving Authority's database and listed as a 4 and 1/2 star company on Google.
Fountain Valley Movers
We believe in setting a standard of professionalism that exceeds the rest of the industry, which is why we put all of our Fountain Valley movers through an arduous training regime. Our program ensures that each mover is an expert at packing and moving all household and commercial goods. If you choose to use our packing service, you will find that your items arrive at the new location in the same condition they left in, and that all valuable or delicate items receive special protection and crating. Furthermore, our Fountain Valley movers maintain a massive fleet of reliable, bio-diesel trucks, and utilize industry-protection-standards setting packing materials. With our skills, equipment, and experience, we are the perfect choice for any Fountain Valley moving needs.
As you look into your moving options, you'll see that these services set Acclaimed Fountain Valley Movers a cut above the rest:
A Comprehensive Consultation Our Fountain Valley moving consultants help guide you through the pre-move process, whether it's choosing a date, deciding what services are right for you, or just answering any questions. We can also have an on site estimator calculate the costs to move your things and give you a binding price estimate which we will not exceed during the moving process.
A Color-Coded Inventory Using our special labeling system we create a detailed inventory of all of your stuff. This keeps the move organized and streamlines the unpacking process. We are able to easily keep track of your items this way, providing assurance that your items will not get lost or misplaced.
A Full Pack of all Items Put our skills to the test with our full-service packing option. This includes boxing up all small items, wrapping and protecting all large items, disassembly of furniture that requires it, and custom protection for special pieces. Whatever your needs, we can satisfy them all.
Bio-Diesel Trucks We believe in protecting the environment, which is why we use soy based paper and ink for contracts, as well as, an environmentally-friendly fuel in all of our trucks. We've significantly reduced our carbon footprint.
Custom services We have long distance moving services, which can take you cross-country, international moving services for moves to a new country, commercial moving services for all types of businesses, auto moving services for the vehicles that need to travel with you, and much more. We customize our services to fit your needs, providing a truly personalized luxury moving experience.
Fountain Valley, California—the mostly middle-class suburban bedroom community on the western side of Orange County—is the quintessential commuter town. Before its incorporation as a city in the late 1950s, Fountain Valley was known colloquially by two names: Talbert to outsiders and Gospel Swamps by locals. Fountain Valley got its current name at the time of incorporation due to the abundance of artesian wells in the area, as well as its abnormally high water table in such a usually drought-ridden environmental zone. Since its incorporation in 1957, the population has risen substantially, estimated in 2015 at nearly 57,000 residents.

Fountain Valley is incredibly important to the acceptance and melting-pot-mentality which is one of the founding cornerstones in the society of the United States of America; the first elected mayor of Fountain Valley was James Kanno, the first Japanese-American mayor of any city on the United States mainland to hold mayoral office. Along with the 1975 Fall of Saigon, Fountain City saw a sweeping in of Vietnamese refugees, who have settled into the community and implemented their spectacular culture into the area. With the occurrence of these events, the small, unassuming town of Fountain City thrust itself into the forefront of American progression decades before most cities.
Fountain Valley Moving Quote
When you're looking for Fountain Valley Moving Quotes, they can be obtained over-the-phone or online through a company website. Remember that this is merely an estimation of the total cost, and not an exact price for the move. For a free, no-obligation quote from the trustworthy professionals at Acclaimed Fountain Valley Movers, try our online moving quote generator, or give us a call and speak to a member of our awesome sales team. Our most requested option is our free on-site estimate, which comes with a "not to exceed" rate for your move. Because the estimator comes to you, and physically assesses the move, you get an accurate estimate and the process is effortless. Get a quote today, and we'll get you moving. You can call us or send us an email on our website asking any questions regarding moving and storage. Our associates will be available Monday through Friday during regular business hours. If you have already decided to move, they can get your move processed and planned so you won't have to worry about it in the future. At Acclaimed Movers, we provide the best moving service and storage service the city has to offer.