Built on a foundation of counter-culture artists and creative minds, the neighborhood of Eagle Rock, California has rapidly blossomed into one of Los Angeles's most exciting metropolitan areas. It's home to Occidental College, as well as sprawling neighborhoods with ample shopping opportunities and plenty of fine dining options. Because of its "Anytown USA" feel, Eagle Rock has been the site of numerous motion picture productions, including Top Gun, The Hunt for Red October, and Star Trek III.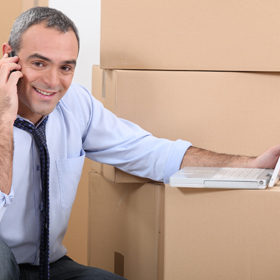 With its close proximity to Griffith Park, Angeles National Forrest, and the Pacific Ocean, Eagle Rock offers up a variety of exciting outdoor entertainment options. For those looking for big city thrills, Hollywood and downtown Los Angeles are just a few minutes' drive away. If business opportunities are what you seek, the local economy continues to rebound from the recent, nationwide economic recession. Regardless of what brings you to the area, Eagle Rock is a fantastic place to visit or to settle down. When you're ready to make a move, hiring the right Eagle Rock movers is crucial to the process of having a streamlined, stress-free relocation. Acclaimed Eagle Rock Movers and Storage offers unparalleled services, industry-leading equipment, and is the right moving company for you.
Eagle Rock Movers
We believe that every move should be an incredible, luxurious experience that makes you a lifelong customer. That's why when it comes to our team of relocation specialists, we only employ the best of the best. We begin by selecting only the most qualified relocation specialists in the business; movers who have years of previous experience and insider knowledge of the ins and outs of the moving industry. Next, we enlist each new mover hired by our company into our specially-crafted, in-depth Acclaimed Movers training course. This course was designed in-house to ensure that all of our relocation specialists are remarkably skilled in the areas of wrapping, packing, disassembly, reassembly, and physical moving of the items of our customers. It's essential to us as the premier luxury moving company in the Eagle Rock area that we employ only the most professional and qualified relocation specialists in the business, so we make certain that all of our movers undergo the kind of training required to go above and beyond for our customers with our Eagle Rock moving company.
Moreover, we equip our team with cutting-edge materials and equipment, like piano tilters, lifts, and reinforced moving boxes. Our skilled professionals and the equipment they have at their disposal combine to create a packing service with a standard of unparalleled quality. You can rest assured that when Acclaimed takes care of the packing for you, your items are sure to arrive in the same condition in which they left your care. Our packing service also includes custom crating for all special items like flat-screen TV's, artwork, pianos, pool tables, and antiques. All transportation of your belongings is carried out by our very own fleet of top-of-the-line trucks equipped with GPS. Each truck is cleaned and maintained regularly, and meets all of California's strict regulations and standards. We've already taken care of the little things, so now let us take care of the heavy lifting as well. The only finger you'll have to lift during your move is the one you use to call Acclaimed Eagle Rock Movers.
Eagle Rock Moving Services
The unmatched services from Acclaimed Eagle Rock Movers and Storage includes:
Hands-on assistance over the course of your move provided by Acclaimed's expert moving consultants. The team is available by phone, during business hours, and by email, at all times, to ease concerns and answer questions. Every Eagle Rock consultant is an expert, and will alleviate any stress or concerns you have.
Long distance moving. Our cross-country services will transition you effortlessly into any state, province, or territory in North America. We'll also move you anywhere in the world.
Commercial moving. Our office moving services will relocate your office, restaurant, hospital, warehouse, retail facility, airport, etc. anywhere in the world.
Expert Eagle Rock movers, who know every inch of the city, and all of the in's and out's of the moving industry. Our relocation specialists are professional, clean-cut, company men who can work in any conditions. Acclaimed Eagle Rock movers understand what your move requires and will make sure you're happy with the results.
An in-depth, color-coded, itemized inventory of all items being moved. This includes labeled boxes, which maintain organization during the move and allow the movers to unload items in the correct places.
A professional wrap and pack of every piece being moved, using the industries best materials. We use only industrial strength packing paper, super-thick moving blankets, reinforced cardboard boxes, and custom, hand-designed crates. Our packing service will get your items to your new address in the same condition they left in.
A Full disassembly and reassembly of large items; Pool tables, pianos, filing cabinets, cubicles, conference tables, desks, network servers, dining tables, beds, etc. Our crew has the tools and equipment to handle all furniture, and will never lose screws or pieces.
Proper crating and transportation of high-end furniture and pieces, such as; antiques, artwork, sculptures, pool tables, pianos, and classic cars. We craft hand-designed crates out of wood or cardboard, providing your valuables with supreme protection.
A fleet of reliable, top-of-the-line trucks equipped with GPS. With the global positioning systems, our drivers are able to map out new routes on-the-fly, allowing them circumvent bad road conditions. The GPS also provides status updates on the whereabouts of your belongings.
Storage in our massive, state-of-the-art storage facility. Our facility utilizes 24/7 video surveillance, and a cutting-edge climate-control system to protect belongings from rust, mold, pests, and prying eyes. Your items are stored in vaults for maximum protection.
Eagle Rock Moving Quote
For any move, commercial or residential, the initial and most important step in the process is acquiring an estimate for the total costs of the relocation. To get a free, no-obligation quote from the experts at Acclaimed Eagle Rock Movers and Storage, click on our moving quote generator, which you will find throughout our website; or you can call (888) 668-3703 to speak directly with one of our sales representatives. Additionally, Acclaimed now offers on-site estimates for our Eagle Rock customers, where our on-site estimator comes to your home or business to provide the most accurate quote for the total cost of the move. The on-site estimate gives you a not to exceed quote to protect you from hidden fees, and also makes the entire estimate process effortless.
When you're ready to obtain a free, no-obligation quote from Acclaimed Eagle Rock Movers, feel free to try out the easy-to-use, online moving quote generator on our homepage. Also, we have our moving consultants available six days a week who can get you a quote in minutes over-the-phone. Moreover, we offer free on-site estimates for all of our Eagle Rock customers. With the Acclaimed on-site, our estimator physically assesses the move with a comprehensive evaluation of the services you require so that you can get a "not to exceed" quote price. Our on-site service protects you from overlooked fees and unexpected costs. When you move with Acclaimed Eagle Rock Movers, you're sure to have an effortless and enjoyable experience. Get a quote today, and we'll get you moving.