Acclaimed Commerce movers are a professional moving team that specialize in local, long distance and international moves. The city of Commerce, a relatively modest-sized area of Southeast Los Angeles that was born out of an industrial boom, has quietly blossomed into the water polo capital of the world. The Commerce Aquatics Center has become a training mecca for Olympic hopefuls, and has even helped produce an Olympic medalist. Beyond the pool, Commerce offers the convenience of being just outside of downtown Los Angeles, and minutes from the excitement of Hollywood and the Pacific Ocean.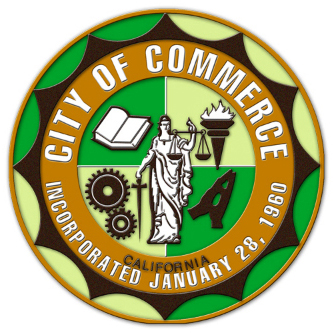 Commerce has an abundance of industry, with a base of manufacturing and good-distribution companies supporting a growing commercial sector, including the Citadel Outlet Mall. The city is also home to the Commerce Casino, which along with producing nearly 40% of the city's tax revenue, also boasts the largest card room in the world. For families, Commerce offers numerous quiet, quaint neighborhoods, and is a quick drive away from Disneyland. When the time is right for you to make a move into, or out of, the city, hiring the right Commerce movers is vital. With years of experience in the area, and expert movers, Acclaimed Commerce Moving and Storage is the right company for your move.
Commerce Movers
Acclaimed Commerce Movers and Storage has performed commercial and residential relocations throughout the city for years, and can even move you across the country or around the world. If you have a home, apartment, condo, office, warehouse, retail facility, or storage unit, our Commerce movers can handle it. We are experts on moving, and on the city of Commerce, meaning your move will get done quickly and efficiently. Your large, bulky furniture is not a problem, as we have the tools and equipment to break it down and move it out, while protecting both the building and the item. If you have limited space for a moving truck, we can maneuver it as close as possible, saving you time and money. Our Commerce movers are also specially trained to handle any high-end or unique furniture, exercising the proper caution to keep it safe. Unmatched service, and ultra-skilled Commerce movers allow Acclaimed to lay claim to the title, premier, Commerce moving company.
Acclaimed is a full-service, fully comprehensive, luxury moving company, which means we help you through the entire relocation, including with planning and packing. Our professional packing service, performed by our relocation specialists, ensures the safe transportation of your belongings, while fortifying boxes, allowing them to support greater external pressure. Each of our Commerce movers receives extensive training in how to properly pack and move any item; including, but not limited to; pianos, pool tables, artwork, antiques, automobiles, network servers, conference tables, and desks. Moreover, our Commerce movers utilize a fleet of new, top-of-the-line trucks equipped with GPS, and use only the industries best packing materials. If you need to store your belongings, we have storage space available in our colossal, state-of-the-art, secure, storage facility; featuring 24 hour surveillance, and climate-control system that keeps elements like pests, mold, and rust from affecting your belongings. At Acclaimed we believe in creating lasting relationships with everyone we move. Our Commerce movers will do what it takes to make your move an effortless and enjoyable experience.
Commerce Moving Services
Moving with the experts at Acclaimed Commerce Movers and Storage's includes:
Comprehensive guidance through every step of your move with Acclaimed's knowledgeable and charming moving consultants; all of whom are available by phone, during business hours, and by email, at all times, providing the quality care you deserve. Each Commerce consultant will answer all of your questions, and remove the stress from your transition.
Long distance moving. With our interstate services, you can move to any state, province, or territory in North America, or anywhere in the world.
Commercial moving. With our unbeatable office moving services you can move your retail facility, warehouse, office, hospital, or even airport.
A team of company men; well trained, clean-cut expert movers, who are also experts on the city of Commerce. Our Commerce movers always overcome obstacles, and understand the care and concern that your relocation requires and deserves.
An itemized, color-coded, inventory of everything being moved. This service includes the use of special labels for boxes, which keep your move organized and make delivery a quick and efficient process.
A complete wrap, and pack, of all belongings. We use only industry-protection-standards setting packing materials, like: industrial strength packing paper, super-thick moving blankets, reinforced cardboard boxes, and hand-built crates. Our packing service ensures that your items arrive in the condition they left in.
Disassembly, and reassembly, of bulky furniture, such as; cubicles, conference tables, desks, network servers, dining tables, pool tables, pianos, beds, etc.
Professional crating and transportation of fragile and/or valuable items; antiques, artwork, sculptures, pool tables, pianos, and classic cars. We will build specially fitted crates out of wood or cardboard, which provide maximum protection for your belongings.
Transportation carried out by our massive fleet of reliable, bio-diesel trucks. Each truck is equipped with GPS, which allows the driver to map out alternate routes to circumvent traffic on-the-fly, provides up-to-the-minute progress reports on the exact location of your belongings, and keeps the driver from getting lost.
Storage in our enormous, vault-based storage facility, which uses 24 hour video surveillance, and a climate-control system to protect personal effects from things like pests, mold, rust, and prying eyes.
Commerce Moving Quote
When you're ready to move, the most important step is the first one, obtaining a fair and accurate estimate for the total cost of your relocation. For a free, no-obligation moving quote from the experts at Acclaimed Commerce Movers and Storage, click on the moving quote generator located throughout the site, or call (888) 668-3703 to speak directly with our sales team. For a "not to exceed" quote, request an on-site estimate where an Acclaimed estimator comes to your home or business to assess the move. Our on-site estimates protect you from hidden fees, and make the process of getting a quote simple.
Acclaimed Movers and Storage is committed to defining professionalism and reliability in the moving industry, while providing Commerce with the most comprehensive and affordable moving services. We continue to expand and improve along with the evolving Commerce moving market, and our goal is to remain the leading, luxury moving company in the city. For the best Commerce movers, at the best rates, set up an estimate with Acclaimed today. We'll get you moving.